Phase second of awareness campaign under Mission Fateh flagged off by Health minister Balbir singh Sidhu
These IEC vans are  run by District administration for awareness campaign  against Covid-19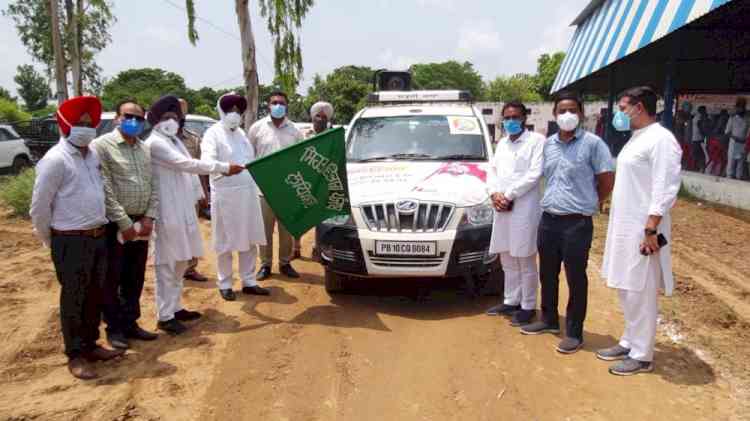 Ludhiana: Health and Family welfare minister S. Balbir Singh Sidhu today flagged off the IEC vans for its second phase. These IEC vans are  run by District administration for Awareness campaign  against Covid-19 which is being carried out in the city under Mission Fateh and it is going to enter in the second phase. Previously, mass media wing teams have covered each and every corner of the city to aware people about Covid 19. In this second phase Villages will be covered which are having maximum  migratory population.

S.Balbir Singh Sidhu said that Punjab is going through a crucial time. But we all need to keep ourselves motivated. For that, I have instructed my media teams to aware and motivate people.  Mass media wing team of Ludhiana is doing a very good job and from tomorrow they will enter the second phase of this campaign. In which they will cover rural areas of the health blocks.
He further added  under Mission Fateh, E- Sanjeevani and Cova app are made for the welfare of people. So that they can take maximum benefit with minimum effort. Each and every thing of Covid 19 is digitalized by the Health department. I request people of Punjab to Stay at home and stay safe from this virus. Our efforts are worthless without people's cooperation.

In this event, Civil surgeon, Ludhiana Dr. Bagga congratulated their Mass media wing teams for doing a marvellous job in the first phase of the campaign.  He said that we are following the guidelines and instructions given by the State authorities whole heartedly.  Mass media wing teams are on their toes from day one and they will work with the same enthusiasm in the second phase also and with increased awareness amongst people regarding covid-19,we are determined that we will win this fight with Corona virus.