PGSC to setup solar power plant
Science City celebrated Energy Conservation Day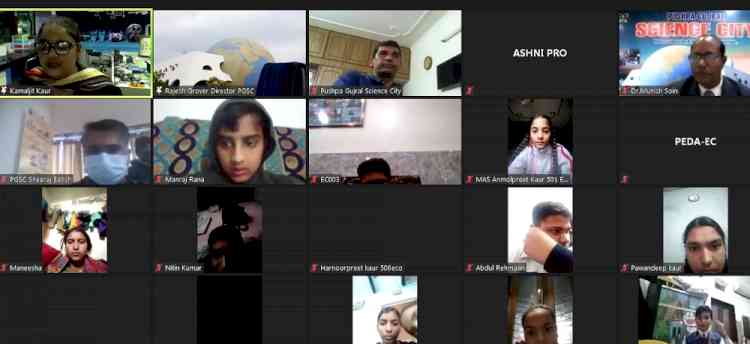 Kapurthala: Pushpa Gujral Science City organized a webinar jointly with Punjab Energy Development Agency (PEDA) to celebrate National Energy Conservation Day. More than 250 students and teachers participated in this webinar. Online project Model display and declamation contests were organized for School  students at this occasion .
In a Model display competition Anshpreet singh from Govt. Senior Secondary School Kartarpur won first prize (Rs 3000), Harnoor Kaur from YS Public School Barnala got Second prize (Rs.2000) and Sorav Chadha from Kamala Nehru Public School  Phagwara received third prize (Rs.1000) Similarly in a declamation competition Abza Dorbala From  Kamala Nehru Public School  Phagwara, Mahavir Singh from Sainik School Kapurthala  and   Piaa Khurana from satpaul Mittal School Ludhiana, bagged  first, second and third prize. 
Speaking at this occasion Dr. Neelima Jerath, Director General, Science City informed that PGSC is leading by example. It set up a Solar Photo Voltaic system in 2012. An energy audit was got conducted in 2012-13 and adopted several conservation measures which led to 2nd Prize in Institutional Category by Bureau of Energy Efficiency in December, 2013. Now PGSC is in process of setting up of 500 KWP Solar Power plant at its premises under RESCO mode in association with PEDA. Further, stressing on the importance of renewable energy resources, she said that sustainable development is possible by use of sustainable energy and by ensuring access to affordable, reliable, sustainable, and modern energy for citizens. Strong government support has pushed India to be one of the top leaders in the world's most attractive renewable energy markets. 
 
Project Manager Mr. Mani Khana and Sharad Sharma  from PEDA  delivered an expert talk at the occasion said that National Energy Conservation Day is celebrated on 14th December globally to highlight the importance of energy in our day-to-day life, its scarcity, efforts required for its conservation and its impact on sustainability of global eco systems.  The role of PEDA as State Designated Agency is to create general awareness among masses about the importance and benefits of energy conservation measures and also to institutionalize the energy efficiency project implementation in the industry, govt. buildings & commercial buildings. He also highlighted the need of use of renewable sources of energy and efforts made by PEDA in this regard. They  emphasized the participants to improve energy efficiency by adopting energy conservation measures. He shared numerous steps taken by PEDA in the field of Energy Conservation including implementation of the recommendations of the energy audits, promotion and implementation of energy efficient LED lights, creating awareness and dissemination of information by conducting seminars and workshops and preparation of Energy Conservation Building Code.
Dr. Rajesh Grover, Director, Science City present at the occasion said that the primary objective for deploying renewable energy in India is to advance economic development, improve energy security, improve access to energy, and mitigate climate change. Further, there is enormous potential of renewables in the country and India can become a global leader in clean and green energy through implementation of Renewable Energy Mission.