PCTE-IHM attempts world record in The Great Indian Samotsav event
The Title for the Best Female Chef was given to Ms. Simran arora (BHMCT- 4th Year)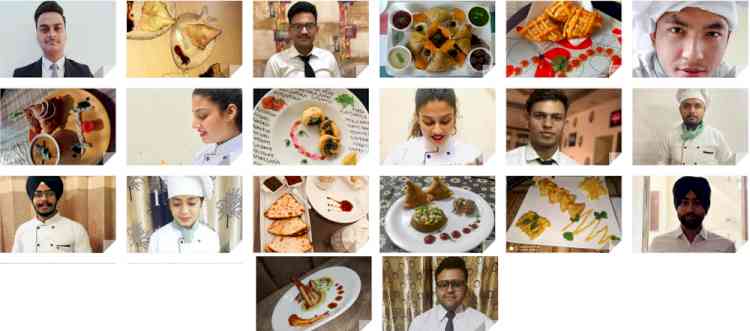 Ludhiana: The Faculty of Hotel Management & Catering Technology along with the faculty Travel and Tourism Management organised "THE GREAT INDIAN SAMOTSAV." PCTE IHM also made an attempt to create a world record where the 160 students made 300 different varieties of samosas and virtually showcased them.
Chef Emma from France, Ms. Bridget Kumar from Bangalore, Chef Rongon from Kolkata, Chef Sudhir Sibbal, Ms.Sangeeta, Food Writer & Critic from Delhi, Chef Sudhanshu, General Manager, Maharaja Grand from Punjab were the judges of the event.
After proper research of various cuisines, the students created samosas like Tiropita Samosa (Greek), Veg Moussaka Samosa, Chicken Sausage Samosa, Egg Benedict Samosa, Caprese Italiano and so on.
The Title for the Best Female Chef was given to Ms. Simran arora (BHMCT- 4th Year) who made a Sweet caramelised nutty sizzler samosa & Ms. Parisha Khanna (BHMCT 3rd Year) who baked an Italian Caprese salad samosa. The title for the Best Male Chef was given to Mr. Suman Sharma (BHMCT 4th year) who made a Volcano Samosa. Best Creative Chef Title was given to Raman Mittal (BTTM-3 year) who made a Russian salad cone samosa. Best Female Debut Chef Title was given to Ms. Janvi Vinayak who made a Israeli salad pita samosa along with Ms. Manpreet Kaur who made a raw papaya crumbled sweet samosa (BHMCT 1st year Batch & BTTM3rd Year). Best Male Debut Chef was given to Mr Sushil (BHMCT- 3rd Year) who made a Goanese Cafrel Samosa.
Mr. Anirban Gupta, Dean, PCTE- IHM, said that students had put on a lot of efforts where they had to explore different culinary exotic world cuisine. He further added by saying that these kinds of activities encourage students to come out of their comfort zones and create something great and explicit.
Dr. KNS Kang, Director General, PCTE Group of Institutes congratulated the entire team of Hotel Management & Travel and Tourism for successfully organising the entire event and further said that these kinds of event bring the creative side of the students and encourages them to push their limits, this will not only help them during their course but also in the future in their respective industry.