PAU Students end protest after government accepts demands 
MLA Gogi, VC Dr Gosal and DC reach sit-in site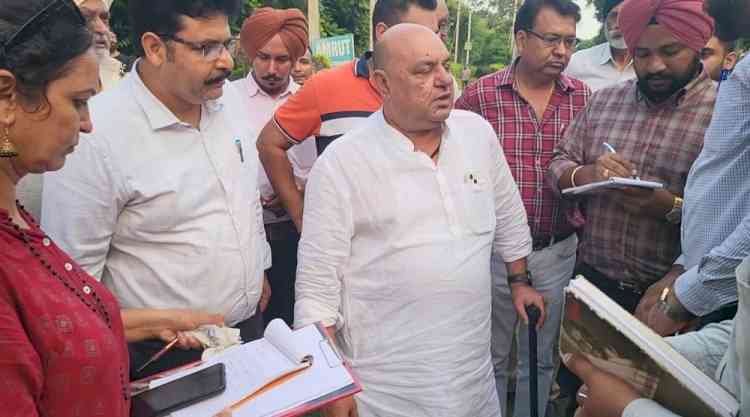 Ludhiana, August 30, 2022: The state government accepted the demands, of students of Punjab Agricultural University (PAU)  on Tuesday, ending the 36 day old strike.  MLA Gurpreet Bassi Gogi, vice-chancellor Dr Satbir Gosal and Deputy Commissioner Surabhi Malik met the students to resolve the matter. 
Addressing the students, the MLA said that Punjab Chief Minister Bhagwant Mann was committed for the welfare of the students for which it had been making concerted efforts to provide quality education to them. Terming the students part of his family, MLA said that he was now relieved with the end of the strike and assured fulsome support in the future too. 
PAU Vice-Chancellor Dr Satbir Gosal also expressed his gratitude to CM Bhagwant Mann and the State government for paying heed to the students' problems. Calling it a peaceful protest, Dr Gosal urged them to contact him anytime in case of any problem. 
Deputy Commissioner Surabhi Malik encouraging the students to work hard towards achieving their goals and become role models for others. he Joint Commissioner of Police  Gurdial Singh also advised the students to become responsible citizens of the country.
The PAU student Babanpreet expressed his gratitude to the State government and PAU VC for acceding to their demands. Students Jasleen and Angrez also addressed the protesting students.
On the occasion, a students' corner was inaugurated by the PAU VC, wherein students will hold interaction with experts after every fortnight. Among those present were Dr Shammi Kapoor, Registrar; Dr AS Dhatt, Director of Research; Dr Ashok Kumar, Director of Extension Education; Dr Sandeep Bains, Dean, Postgraduate Studies; Dr MIS Gill, Dean, College of Agriculture; Dr GS Buttar, Additional Director of Extension Education and Director Students' Welfare; and members of PAU Teachers' Association.