PAU facebook live gets positive feedback from farmers
The interactive one hour session has scientists from various departments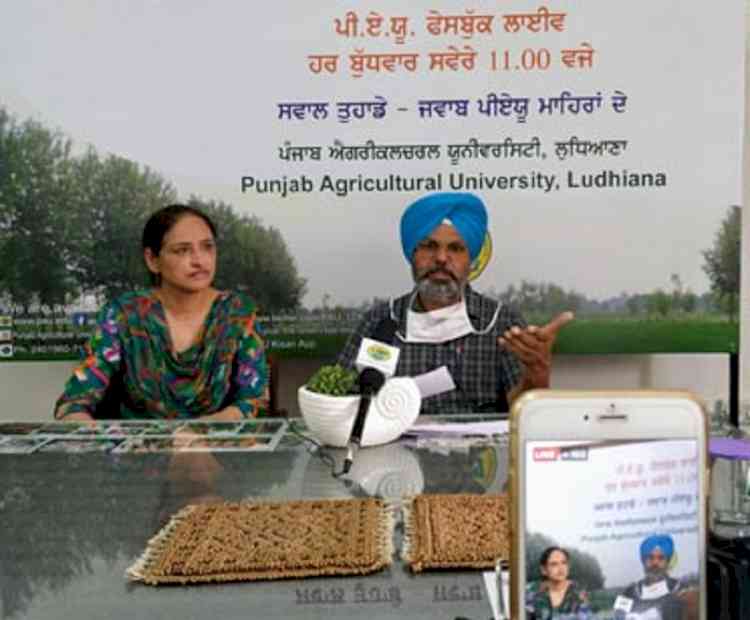 Ludhiana: Punjab Agricultural University's Facebook Live programme , telecast every Wednesday at 11.00 A.M. has drawn a lot of interest and participation of farmers from the state as well as neighbouring regions. The interactive one hour session has scientists from various departments answering previously posted queries, photographs as well as on the spot questions. The farmers also get up to date information on admission to various academic courses of the university and training programmes organized from time to time.
Interacting with farmers, at the fifth Facebook Live session, Dr Lavlish Garg said that the university's training programmes are being organized as per the usual schedule. He briefed that owing to the ongoing pandemic, these trainings are being held online, the information regarding these is available on PAU website, www.pau.edu ; and farmers can click on the 'upcoming trainings' option by opening the 'skill development center' tab on the left side of the website. Farmers can apply online for these trainings, the schedule and information regarding which would be sent to the farmers, beforehand. Dr Neena Singla shared tips and techniques to control rodents at home and fields, while Dr Amarjeet Singh shed light on plant diseases, while cautioning farmers to spray fertilizer as recommended by the university. Regarding cultivation of moringa (drum stick), farmers got a briefing from Dr Chauhan of Department of Agro forestry and Natural Resources. Dr Makhan Singh Bhullar shed light on management of insec- pests in direct seeded rice. Dr Jaswinder Singh from the Department of Fruit Science suggested planting evergreen fruit trees in the monsoon months from July till September. On growing chilies, Dr Kulbir said that chili saplings are grown in the month of November, while it's sowing is done in February. He advised sowing chilies in soils that are well drained, as this plant does not survive in excessive water logged soil caused due to monsoon rains.
Dr Rupinder Singh Gill, while clearing farmers' doubts on optimum soil health, advised applying 130 kilogram of urea at an interval of 4-6-9 weeks, in direct seeded rice. Dr Naveen Aggarwal cautioned against the fall armyworm attack in maize and shared tips to prevent it. The importance of organic farming was taken up by Dr Manisha Thakur, while Dr K.B. Singh addressed 'on the spot' queries of farmers. Dr K.K. Gill informed that the month of July is expected to bring normal rainfall which is very good news for paddy. Farmers, Sardar Nirmal singh and Balwinder Kamboj applauded the university's initiative to stay in touch with farmers in the form of Facebook Live weekly sessions. Additional Director, Communication, Dr Jagdish Kaur, appreciated farmers' feedback and asked them to post their queries on PAU's Facebook page, which will be taken up by experts on July 8, 2020.
PAU ORGANIZES WEBINAR FOR FLOWER GROWERS
Ludhiana: In total, 20 members of PAU Flower Growers' Association attended the webinar, organized under the guidance of Dr JS Mahal, Director of Extension Education, Punjab Agricultural University (PAU).
In his welcome remarks, Dr TS Riar, Associate Director, Skill Development, highlighted the activities of PAU Flower Growers' Association.
Floriculture experts Dr Parminder Singh and Dr Shalini provided tips for marketing and processing of flowers, respectively.
Sardar Gurvinder Singh Sohi, President of the association, proposed the vote of thanks.
Later, Mr Ravinder Bhalooria informed about training courses to be organized next month.
'STARTUP TALKIES', ZOOM TALKS CONCLUDES SUCCESSFULLY AT PAU
Ludhiana: The Skill Development Centre, Directorate of Extension Education, Punjab Agricultural University, Ludhiana, organized zoom talks by Punjab Agri Business Incubator's (PABI) Successful Startups-`Startup Talkies`. There were total eight sessions by Ten Agripreneurs- Mr. Amandeep Srivastava, Mr. Pankaj Kumar, Ms. Anupma, Mr. Pawanpreet Singh, Mr. Gursewak Singh, Mr. Gurwinder Singh, Mr. Narpinder Singh, Mr. Jagtar Singh, Ms. Harpreet Kaur and Ms. Harjot Kaur Gambhir. The programme was inaugurated on June 9, 2020, by Dr T. S. Riar, Associate Director, Skill Development and coordinated by Mr Karanvir Gill, Business Manager, PABI and Mr Rahul Gupta, Assistant Manager, PABI. More than five hundred participants attended the sessions and interacted with experts and their respective focus areas. The speakers shared their success stories and journey with the PABI and motivated potential agripreneurs to apply for startup programmes initiated by Government of India to shape their business ideas. The series was a good platform for marketing, network linkages and business expansion of the startups. Valedictory session was held on July 2, 2020 and vote of thanks was proposed by Dr T.S. Riar. The technical support was given by Mrs. Iqbalpreet Kaur Sidhu and Mr. Karanbir Singh, Business Executives, PABI.