PAU adjudged Best State Agricultural University of India
PAU was the first to get the prestigious Best State Agricultural University Award 1995 from ICAR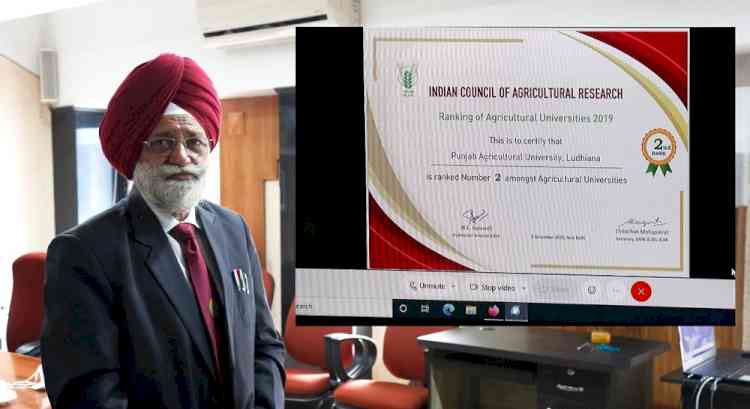 Ludhiana: Maintaining its lead in winning the national awards, the Punjab Agricultural University (PAU) has once again won laurels by securing the first position among the State Agricultural Universities and second position among the Agricultural Universities and Institutes in the ranking of Agricultural Universities 2020 by the Indian Council of Agricultural Research (ICAR), New Delhi. The ranking certificate was presented to Dr Baldev Singh Dhillon, Vice-Chancellor, PAU, through video conferencing during Vice-Chancellors and Directors Conference, held today on December 5. The PAU, since its inception, has made an outstanding contribution in the development of agriculture including the ushering in of Green Revolution in the country. Its landmark achievements are a testimony to its dedication and devotion.  
Congratulating the senior officials, faculty and staff of PAU, Dr Dhillon said: "The award speaks itself of the eminence of PAU, which has being going from strength to strength. This award is a recognition of collective efforts put in by the faculty and staff in the areas of agricultural research, teaching and extension." Dr Dhillon further said: "The University has been in the forefront in the development of early maturing crop varieties along with their matching production and protection technologies, crop residue management, water management, insect (whitefly) control in cotton, etc. In addition, the development of new varieties of fruit and vegetables, and food processing are the niche areas of PAU's accomplishments."
Earlier, PAU was the first to get the prestigious Best State Agricultural University Award 1995 from ICAR. It was also adjudged as the Best State Agricultural University and the Third Best Research Institute in the country by ICAR in 2017, and conferred with Sardar Patel Outstanding ICAR Institution Award by ICAR in 2019. Besides, it bagged Agricultural Leadership Award 2015 and was honoured by the Indian Society of Genetics and Plant Breeding in March 2017 for having the highest number of landmark varieties to its credit. The PAU also made it to the list of top 100 institutes of the country in the India Rankings 2017 (second among Agricultural Universities in India and first among Universities in Punjab) for its commendable role in teaching, learning and research. It was identified as Institution of Excellence in Agriculture in 2018 under Institute of Eminence Scheme - a special category by Empowered Expert Committee of MHRD/UGC (2018).