Patient with varicose veins complications treated via advanced Foam Sclerotherapy at Fortis Mohali
Procedure is less painful and lasts about 30 minutes; patients discharged on the same day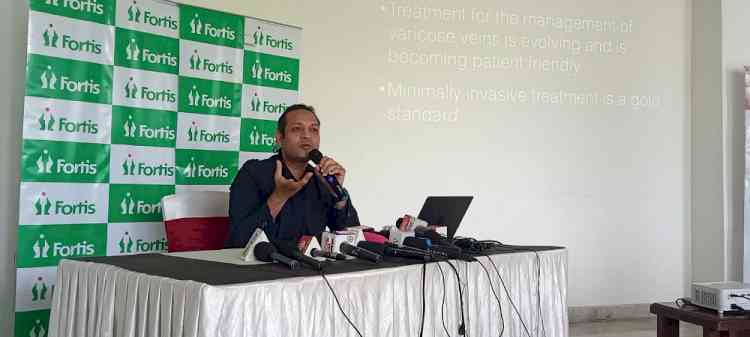 Dharamsala, May 28, 2022: A 43-year-old woman based in Kangra, was suffering from Bilateral Varicose Veins (swollen and tortuous veins) which was causing her extreme pain, swelling and a dilated bluish bulge under the skin. Bilateral Varicose Veinsare swollen and painful veins caused by damaged valves that allow blood to travel in the wrong direction. A delay in treatment would have caused chronic ulcers in the Patient's leg.
Unable to bear the pain and discomfort, the patient approached Dr Ravul Jindal, Director, Vascular Surgery, Fortis Hospital Mohali, on 29th April this year. A Doppler ultrasound scan revealed impaired valves in the left leg and darkening of the skin, known as Stage C3, which is characterized by acute swelling in the legs (Edema).
The team of doctors led by Dr Jindal conducted Foam Sclerotherapy of the diseased vein. Foam Sclerotherapy is used to treat bulging varicose veins and spider veins. The Patient was discharged on the same day of the procedure and was able to walk without support. She has recovered and leading a normal life today.
Stating that varicose can be treated successfully through the latest technological advancements, Dr Jindal, added, "A wide range of advanced treatment options are available for varicose veins. The procedure is less painful and takes about 30 minutes. A patient has an early recovery and can go home within an hour of the procedure. Also, there are fewer medications and post-procedure care."