Panjab University, SAIF/CIL holds webinar on National Education Policy-2020
The speaker of the day was a very versatile and renowned personality in the field of higher education - Prof RL Raina, VC, JKLU Jaipur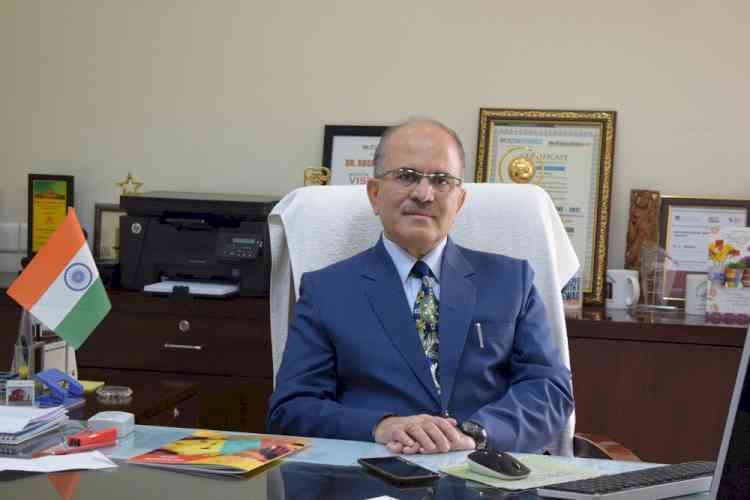 Prof RL Raina, VC, JKLU Jaipur.
Chandigarh: The SAIF/CIL Panjab University Chandigarh organised a webinar on National Education Policy-2020 with special reference to Student Centric Teaching Learning. 

The session began with the introductory remarks of Prof GR Chaudhary, Director SAIF/CIL. 

The Vice chancellor Panjab University Prof. Raj Kumar, the chief patron of the webinar appreciated and acknowledged the topic Student Centrcongratulated the panelist & speaker for selecting the right time for dispensing the knowledge on a very important topic National Education Policy 2020. The VC talked about providing access to the resources and focusing on the participation of students in implementing NEP 2020. 

The speaker of the day was a very versatile and renowned personality in the field of higher education - Prof RL Raina, VC, JKLU Jaipur. His exemplary talk on this visionary document kept the virtual audience curious and completely engrossed throughout, as is the aim of this multidisciplinary policy. Prof Raina explicitly discussed the principles and various elements on which NEP 2020 rests. He beautifully cited the thin line between the terms use, misuse, overuse and underuse and discussed how this holistic and integrated policy aims at producing a complete human being and not just a professional. He highlighted the importance of teaching the students the art of "learning to learn" and rise above rote learning that just aims at securing marks. He addressed that our youth are our ambassadors and education needs to prepare them for life, for facing the world out there. 

Prof Raina shared an interesting and unique course named SEE (Social, Emotional and Ethical Learning) that he introduced in his JKL University, Jaipur last year. He not only highlighted the pros of NEP 2020, but critically analyzed it and brought into light the recognition to library resources that the policy failed to include. 

He concluded his talk by reciting a short prayer from the book 'Power of Positive Thinking' by Norman Vincent Peale and appealed everyone to start acting on this visionary document with an enthusiastic approach, since it is your attitude that makes it look positive and doable.