Panjab university Chandigarh's TIGR2ESS team organised webinar on Skill Development in Punjab
Punjab is the first state in the country to establish Rural Skill Development Centre: Dr Sandeep Singh Kaura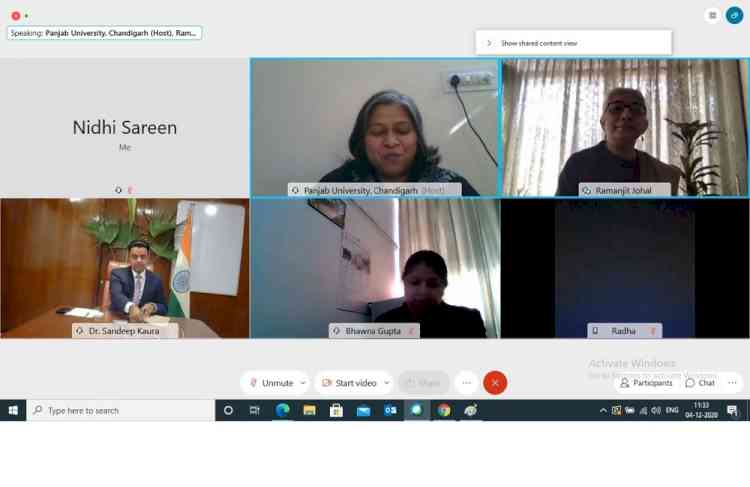 Chandigarh: A webinar titled Skill Development in Punjab With Reference To National Education Policy 2020 was organized by PU TIGR2ESS (Transforming India's Green Revolution by Research and Empowerment for Sustainable Food Supplies) team. It is an international research project lead by the University of Cambridge and funded by Global Challenges Research Fund. Dr Sandeep Singh Kaura, Advisor Punjab Skill Development Mission, Govt. of Punjab was the resource person. Prof. Ramanjit Kaur Johal, Principal Investigator PU TIGR2ESS, introduced project PU TIGR2ESS and the theme of the webinar.
Dr S S Kaura shared the journey of Punjab Skill Development Mission since its establishment in 2014. Under PSDM initiatives, focus on skilling has been tremendous in urban as well as rural Punjab. Punjab is the first state in the country to establish Rural Skill Development Centre. For capacity building of Indian trainers, MoU can be signed with other countries. As a part of this; trainers from India will undergo training to impart skills required for employment sector of the concerned country. Punjab is already doing it with UK and Alberta province of Canada. This will enable India to provide skilled workforce globally and emerge as Skill Capital of the World. Punjab can facilitate its aspirational youth to go abroad legally and earn well and share the economic benefits through remittances back home.
Dr. Kaura elaborated that National Education Policy 2020 will augment skill development initiatives of PSDM by providing supply of trainees from schools, ITIs, and higher education institutes. Further, NEP 2020 can bring a much needed change in the mindset of Indian society as it integrates vocational education at par with mainstream education. It will also help in bringing down the high dropout rate of youth from schools significantly.
He also apprised of skilling of agriculture based youth in the State and how rural youth clubs were enabling access to technology. Organic farming is an upcoming field which is yet to gain popularity. He proposed that PSDM can collaborate with team TIGR2ESS to conduct research and promote organic farming among Punjab's farming community. He encouraged youth to volunteer for rural skill development efforts.
The talk was very well received. More than 150 students attended the webinar. Dr Monika Aggarwal (Associate Prof. UIAMS) steered the discussion. Other panellists were Dr Shailaja Fennel and Dr S. Ray (Team TIGR2ESS, University of Cambridge) and Dr Bhawna Gupta (Assistant Prof., Dept of Public Administration) and Dr Radha Kanwal Sharma (Post Doctoral Research Associate, Team TIGR2ESS, Panjab University).