PANJAB UNIVERSITY CHANDIGARH LATEST NEWS
read latest updated and fresh news from panjab university chandigarh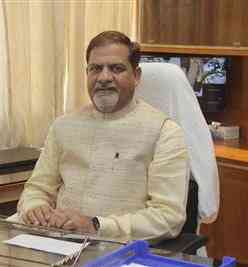 VC, PU Chandigarh .
PU VC RECOMMENDS FOSTERING INNOVATION AND ENTREPRENEURSHIP
Chandigarh: 
Prof. Raj Kumar, Vice Chancellor, Panjab University was  invited as a
 panelist in the national webinar on "Self-Sustaining Economy: A Road
Map to New Bharat" jointly organized by the Faculty of Management
Studies, Mohanlal Sukhadia University, Udaipur and Bhartiya Sikshan
Mandal.
Prof. Kumar highlighted that Covid-19 has engulfed the entire world
and the economic impact of this pandemic is certainly disruptive. In
order to make 'Bharat' self-reliant there is a need to foster
innovation and entrepreneurship. The current situation should be used
as an opportunity for 'Bharat' to expand its manufacturing base and to
build its own industries so as to make Bharat resilient to
volatilities.
He further added that it is high time to encourage self-sustaining
economic model in the country through Indian intellect by ensuring
mobilisation of domestic resources and strengthening the domestic
manufacturing.
PU VC BECOMES MEMBER OF UGC SUB-COMMITTEE
Chandigarh: 
Prof. Raj Kumar, Vice Chancellor, Panjab University is nominated as
the member of UGC Sub-Committee for Mapping of Swayam Courses.
The sub-committee is constituted by Prof. D.P. Singh, Chairman of UGC
under the Chairmanship Dr. Bhimaraya Metri, Director, IIM,
Tiruchirappali. The other members of the committee besides Prof. Raj
Kumar includes Prof. Ravi Kumar Jain, Director, SBIM Hyderabad, Prof.
Prashant Gupta and Prof. Ayon Chakraborty from IIM, Tiruchirappali.
It is pertinent to mention here that in the Covid-19 lockdown
condition, there is tremendous increase in demand and the usage of
Swayam courses and Swayam Prabha videos as all the courses are
interactive and are available free of cost to any learner from Class
IX till post-graduation. And it is in this backdrop only that Union
HRD Minister Ramesh Pokhriyal has desired to get the thousands of
courses and videos online translated into 10 regional languages.
The courses hosted on Swayam are in four quadrants namely; video
lecture, specially prepared reading material that can be
downloaded/printed, self-assessment through tests and quizzes and an
online discussion forum for clearing the doubts.

WEBINAR FOR LGBTQ BY UILS, PU
Chandigarh:
An Online Webinar on 'Making of a Law' with special emphasis on 'Right
to Marriage and Reproduction (through use of assisted reproductive
technologies) for the LGBTQ Community' was organised today by The
Criminal Justice Practicum Cell of University Institute of Legal
Studies, Panjab University, Chandigarh.
The keynote speaker for this Webinar was Sh. N.K. Premachandran,
Member of Parliament (Lok Sabha). The Webinar was Webcasted
LIVE for 90 minutes and it presented a detailed insight into the
legislative processes involved in the enactment of a Law by the
Parliament of India.
The key focus of the Webinar explaining the entire Law making
process, included:
•       Drafting of a Bill
• Categorization and types of Bills
• Role of Parliamentary Committees
• Procedure to file Private Member Bill
• Procedure of filing Petition in Parliament
•       Presentation of the Bill in Parliament
•       Reference of the Bill to Parliamentary Committee
•       Parliamentary debate and discussion,
•       Inclusion of suggested amendments
• Role of Opposition
•       Voting on the Bill in both the houses of Parliament and thereafter
•       Presentation of Bill passed by both houses of Parliament for
Presidential approval and implementation.
And many other aspects related to the Law Making Process.
Dr. Anju Choudhary, who was the organizer of this webinar informed
that Sh. N.K. Premachandran also replied to the queries raised by the
participants with patience and clarity which was attended by
around1000  participants from all across India including teachers,
judges, lawyers and students.
It was organised under the esteemed leadership and guidance of Prof.
(Dr.) Raj Kumar, Vice Chancellor, Panjab University, Ms. Anu Chatrath,
Dean, Faculty of Law, Panjab University, Prof. (Dr.) Rattan Singh,
Director, UILS, Panjab University and Dr. Anju  Choudhary, Teacher
In-charge, CJPC, UILS.
INTERNATIONAL WEBINAR ON CHALLENGES IN POWER GENERATION AND
INSTRUMENTATION AT PU
Chandigarh: 
University Institute of Engg & Technology, Panjab University
Chandigarh organized a one-day TEQIP-III sponsored International
Webinar on Challenges in Power Generation and Instrumentation  with
Govt. College of Engg. and Tech., Jammu.
Inaugurating the Seminar, Prof. Raj Kumar, Vice-Chancellor, PU
emphasized that though COVID-19 has put all of us indoors, however,
there is a need to continue updating the knowledge through digital
means. He emphasized that power is essential for the growth of the
country and seminar on such a topic with an international speaker gives
an insight into existing technologies at world level and
opens collaborative opportunities.  He lauded the role of engineers and
UIET faculty in coming up with new design and research ideas to tackle
the challenges such as COVID-19.
Prof. Savita Gupta, Director UIET in her speech welcomed the
dignitaries and the faculty members of various colleges. She informed
that seminar has received 250+ registrations across the board from
international universities, PSUs like NHPC, faculty of various
colleges, research scholars and industrial personnel, who joined
through the Webex mode. She encouraged the participants to keep pace
with the ever-changing technology and to take up various research
projects in collaboration with industries.
Prof Sukhwinder Singh, Nodal Officer TEQIP-III extended all assistance
in organizing such programmes.The main aim of the seminar was to make
the participants conversant with the scope and problems of solar
generation and techniques to handle them.
The expert speakers, Dr. Rahul Sharma from the University of
Queensland (Australia) elaborated the Solar Energy Technology being
used in Australia and Dr. S.K. Parida from IIT Patna illustrated the
Credentials of Renewable energy and Smart Grids,and Dr. S S Saini from
CSIR- CSIO gave an insight on Instrumentation of Automobiles.
Panel discussions were also held and moderated by event coordinators
Dr.Naresh Kumar and Dr. YP Verma in which a wide range of topics
related to solar energy and  electric vehicles were discussed in
detail. Er Rajiv Bali, HOD, Electrical Engineering, GCET, Jammu
proposed vote of thanks to the speakers and participants for
contributing their time and sharing fruitful ideas.
PU TO REMAIN CLOSED TILL MAY 17,2020
Chandigarh:
The Panjab University, Chandigarh including Regional Centres,
Constituent and Affiliated Colleges shall continue to remain closed
till May 17, 2020, informed Prof Karamjeet Singh, Registrar.
In addition, the guidelines being issued/released  by the Government
of India  from time to time will also be applicable.  These will be
communicated separately, as and when these are received.
WEBINAR ON BIOSAFETY ASPECTS OF THE NOVEL CORONA VIRUS ORGANIZED AT PU
Chandigarh: 
The Bioincubator of the Panjab University, BioNEST-PU organized an
online interactive session-cum-webinar to discuss the Biosafety
aspects of carrying out research on COVID-19-related product
development. The webinar was hosted by the incubator to enable
learning about the Biosafety related issues of the SARS-CoV2 virus in
order to aid the research work related to the virus without causing
any harm to the workers and the society.
Prof. Raj Kumar, Vice Chancellor of the Panjab University opened the
webinar with encouraging words for all the researchers on-board to
keep working till we win this war against the virus. He also
highlighted how the University has been actively functioning even
during the lockdown with students and faculty getting involved in the
online seminars. He proudly informed the audience that the university
has applied for over a dozen projects related to the novel corona
virus. He also emphasized on the need for industry-academia
collaborations and why these collaborations are needed now more than
ever.
Dr. Rohit Sharma, the Project Leader of BioNEST-PU informed how their
team had received an overwhelming response for the webinar in just one
day after it was announced online. Around 110 participated in the
same. Students and faculty from not just the university, but from the
neighboring institutes as well as educational institutes from all over
the country attended the session and remained present online
throughout.
The speaker for the webinar, Dr. Ganesh Kumraj, Managing Director -
BioBridge Healthcare Solutions Pvt. having more than 29 years of
experience as a leader in the Pharma & Biotech industry, elaborated on
the different types of biosafety environments required for working on
COVID 19. He also detailed the research and development in the area of
vaccines for the present Pandemic and its status. He also explained
the type of set-up required to undertake research on such a contagious
disease.
 Notably, Dr. Kumraj along with Dr.Rohit Sharma are working together
for the establishment of scale-up facilities for anti-viral vaccines.
Both of them together are applying for different grants to carry out
research and development for a vaccine against the different
pathogens. Initiatives like these create a sense of responsibility in
the young researchers while creating a sense of confidence in the
general public and thus help in affirming, that we can beat the virus
by working together in a right direction.