Panchkula cyclothon held enthusiastically 
600 children take part to spread message of oil conservation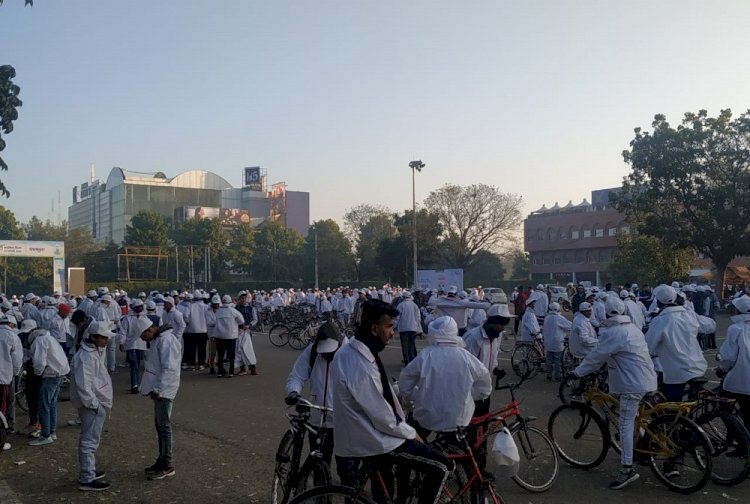 Panchkula: 600 school children took part in Cyclothon to spread message of oil conservation from Sector 5. To spread the message of awareness towards oil and gas conservation and protection of the environment by the Ministry of Petroleum and Natural Gas. 
Every year from January 16 to February 15, 2020 with PCRA and government oil undertakings - 2020 (Conservation Capability Festival) is being celebrated.
As part of this awareness campaign, a cycle rally was organized by Chandigarh I&C Regional Office today in which more than 600 students took part. 
The cycle rally started from Sector-5, Panchkula, Haryana, in which about 600 children used  bicycle instead of fuel driven vehicles to spread the message of oil, gas and environmental protection to the common people.
Chief guest ADC Panchkula  Manita Malik flagged off the cycle rally and insisted on adopting an amazing confluence of fitness and environmental protection ; the strong message of discipline, fitness, hygiene and environmental protection goes to the public through such events.
 
Pawan Kumar Chief Manager Hindustan Petroleum said the slogan of Saksham-2020 (Conservation Capability Festival) this year is: "Don't spend too much fuel, let's save the environment". He added "And, we are encouraging Panchkula residents through school students  to participate in this noble cause of oil and gas conservation, I am thankful to all the students wholeheartedly."
A cycle enthusiast group Cyclotribe was also part of Cyclothon organised by Hindustan Petroleum .