PANCHAYATI RAJ DIWAS SPECIAL: PANCHAYATS THEMSELVES ORGANISING AWARENESS DRIVES RELATED TO COVID 19
PEOPLE SHOULD STAY INDOORS AND FOLLOW ALL DIRECTIONS OF PUNJAB GOVT: DC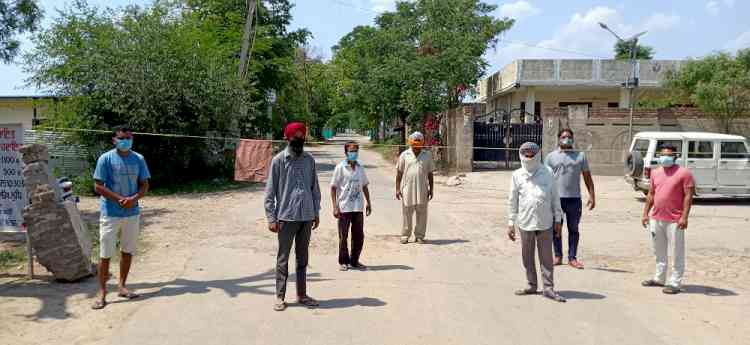 Ludhiana: Panchayati Raj Diwas is being celebrated in the country today. Usually on this day, functions are organised to make the gram panchayats aware about their rights, works and other responsibilities, but due to ongoing Novel Coronavirus (COVID 19) pandemic, the panchayats have become so aware that the elected representatives are themselves making their respective village residents aware about ways to save ourselves from COVID 19. Such activities can be seen in almost 60 percent villages of the district.
People themselves guarding their village roads and holding theekri pehras during the ongoing lockdown/curfew. At village Baddowal, the village youth can be seen guarding the entry/exit roads of their village ever since lockdown/curfew was imposed in the district and they are restricting the entry of unknown persons into the village. This initiative of the village youth is being appreciated by all village residents as now everyone is aware. The people stopped at the check points are also provided hand sanitiser etc.
Village panch, who is leading this team of youth guarding the entry/exit points of village Baddowal, informed that people vote for the panchayat for the benefit and development of the village. That is why, it also becomes the duty of the panchayat that it should work for the betterment of the residents and the check point has been established. He informed that this check point is set up from early morning till late evening every day and villagers are deputed here in different shifts.
He said that any person who enters the village, the residents question him properly, before letting him move ahead. He informed that registration number and details of all vehicles crossing this check point are also noted. He said that no outsider is allowed to enter the village and only the outer roads can be used to move ahead to next villages.
He said that everyone is thanking the Punjab government for providing facilities to the residents at their doorsteps. They also welcomed the decision of Punjab government for allowing the opening up of farm machinery workshops in view of the ongoing wheat harvesting.
Deputy Commissioner Mr Pradeep Kumar Agrawal also appreciated such efforts by the gram panchayats and appealed to residents of other villages to enforce self lockdown in the interest of the society. He also urged them to stay indoors and follow all directions of the Punjab government.