Online Mother's Day Celebration- 2021
Saluting motherhood- A rich tribute to mothers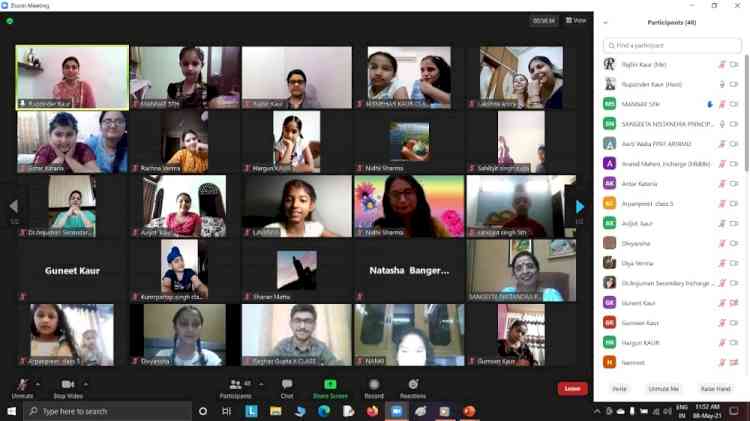 Jalandhar: Apeejay School Rama Mandi Jalandhar dedicated this year's Mother's Day to respected Smt. Rajeshwari Paul ji, wife of our revered Founder Chairman Late Dr. Stya Paul. A special assembly was organized under the kind stewardship of Principal Ms Sangeeta Nistandra. The programme began with a floral tribute paid to the departed soul on her 8th Punya Thithi. Saraswati Vandhana  sung by the Music Teacher-Ms.Nidhi Sharma .
To show the love and respect to their mothers, the young, enthusiastic and adorable students of Class-V celebrated this most special day with lots of fun activities and some memorable performances. The history of the Mother's Day , was shared with the students through an  informative video.Students put their best foot forward virtually through dance performances to convey gratitude to their moms for their unconditional love. They had something more special and unique to bring a smile on their beloved mother's face. They passionately made beautiful greeting cards and conveyed an important message of being humble, respectful and obedient to their mothers. They intensely and devotedly spoke about their mothers. It was a pleasure watching on zoom platform the dynamic and energetic children's love and creativity . The outcome of their efforts was marvellous. Each card was special and different in its own way. 
Dr. Anjumandeep Kaur made an earnest effort to instill the importance of mother in a child's life through a self-composed poem.Talent and hardwork of brimming students was acknowledged by announcing the winners of various offline competitions held on 6th May,2021 through a musical video. 
The Principal Ms.Sangeeta Nistandra  spoke about the inculcation of values as we remember our Mother Figure, Smt. Rajeshwari Paulji on the eve of Mothers' Day. She added that the best tribute paid to her would be to respect our mothers at home. She wholeheartedly congratulated all the winners .She inspired the children to inculcate virtuous deeds and resort to ethical ways that makes thier mothers happy and contented.
The celebration ended with all mothers and children, enjoying themselves and taking back fond memories of a day well spent.