Online Conference on "Compliance's for Setting up Overseas Office(s), Foreign Trade & Exports" 
The event was organized jointly by FIEO & CICU & HDFC Bank Limited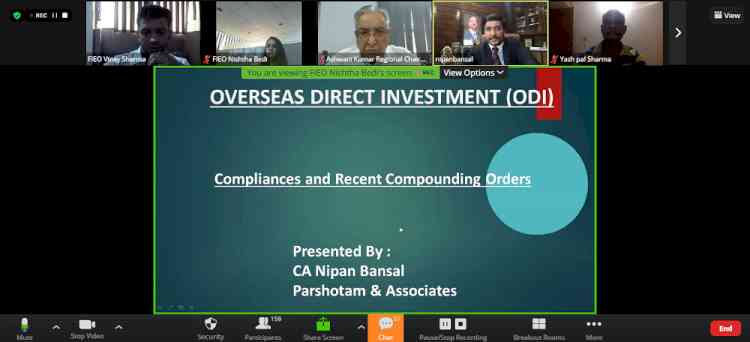 Ludhiana: Federation of Indian Export Organisations (FIEO ) Punjab Chapter, Chamber of Industrial & Commercial Undertakings (CICU) and  HDFC Bank Limited jointly organized an Online Conference on "Compliance's for Setting up Overseas Office(s), Foreign Trade & Exports". Well known Chartered Accountant (CA) Mr. Nipan Bansal, Partner, Parshotam & Associates joined the session as subject expert along with Mr. Dinesh Seth, Zonal Head, Retail Branch Banking, Mr. Rohit Aggarwal, Regional Sales Head, Retail Trade and Forex Services  & Mr. Munish Goyal, Territory Sales Head, Retail Trade and Forex Services, representing HDFC Bank Limited. Mr Ashwani Kumar, Regional Chairman, (NR) FIEO and Mr Upkar Singh Ahuja, President, CICU represented their respective Trade & Promotion bodies.
During his address Mr. Ashwani Kumar , Regional Chairman (NR) FIEO said that, "Exports play a vital role in a country's economy. When export businesses flourish, it brings a number of benefits, such as companies making more profits, more money coming to a country, technology upgradation, employment generation etc. Now a large number of Indian companies are now looking to open their branch offices or warehouses in various other countries to enhance their exports and market shares. This has definitely reaped benefits for them, however, opening an office on foreign soil is not that easy, not only  this involves transfer of resources alone, it also involves transfer of money from one country to  another country and this further involves meeting various compliances made by regulatory or governing bodies  statutory financial institutions for business operations of both the countries.  The session has been organized with this objective to make exporters aware about such compliances or legalities for smooth operations of businesses in foreign countries and overseas trade".
While interacting with the participants CA (Mr) Nipan Bansal deliberated on, "How to set up overseas offices; which can be Branches/Wholly Owned Subsidiaries/Joint Ventures set up,  covered under country's Jurisdictions ,Compliance under FEMA/Income Tax Act  that would help the exporters in tackling Rigorous compliances under Merchanting Trade for Merchant Exporters, how to represent FEMA Case before Directorate of Enforcement (ED) & Reserve Bank of India (RBI) and how to respond to FEMA Notices issued by these departments ,  Ways to Protect against Volatile Exchange fluctuations".
Sharing his views Mr. Upkar Singh Ahuja, President, CICU said that, "The need of the hour is to expand our businesses globally as well as domestically. Globally India is ranked 7th on the Global Exporting Country list. Even a few smaller countries are ahead of India, however, with the Indian companies reputation & credibility have become better,  quality of product is good and with advent of technologies the quality & supplies are  also improving  day by day, all these factors may help in  doubling of exports in the times to come. Looking at the present scenario, a large number of companies worldwide are re-looking or  re- working on their Supply Chain Management systems, it offers a great opportunity for Indian companies to increase their share of global exports. Further opening an office or warehouse on a foreign soil may act as a catalyst or  tool for enhancing exports. Overseas offices also add confidence in buyer and company's credibility as it results in swift services and support in early handling of buyers issues, resulting in enhanced business, good brand value and ease of  technology transfer to native country".
Mr. Dinesh Seth, Zonal Head, Retail Branch Banking, Mr. Rohit Aggarwal, Regional Sales Head, Retail Trade and Forex Services & Mr. Munish Goyal, Territory Sales Head, Retail Trade and Forex Services, HDFC Bank Limited  interacted on important exports trade related banking matters, such as Regulatory Compliance for Exporters and Importers, EDPMS/IDPMS, Permissible timelines for payment Realisation and Regularization of Export Bills, Common Challenges faced by Exporters & importers and guided them about resolutions, Digital platform Solutions for Exporters / Importers for their regular trade Transactions (Outward Remittances, BGs, Disposal for inward remittances) & Trade Forex Products & Services offered by HDFC Bank Ltd.
The online web conference was well attended by close to 200 delegates all across India representing various prominent export business houses.