Onkar Singh Pahwa lays foundation stone of Kular Sons
Pahwa is chairman of Avon Group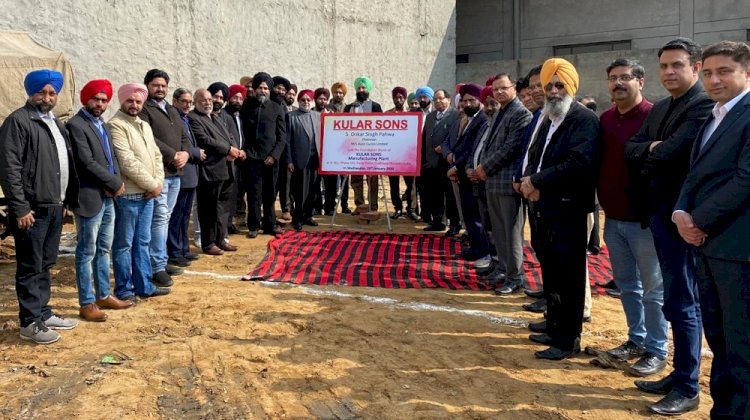 Ludhiana: Onkar Singh Pahwa, Chairman, Avon Cycles Limited, on Wednesday,  laid the Foundation Stone for New Manufacturing Plant of M/s Kular Sons. On the occasion, he congratulated Gurmeet Singh Kular and Jagdev Singh Kular for their new endeavours.
 
First Brick was laid down by Onkar Singh Pahwa, second by K.K. Seth, third by Harjit Singh Sondh, fourth by Manjinder Singh Sachdeva, fifth by Gurvinder Singh Sachdeva, sixth by Vipan Mittal, seventh by Jagjit Singh Lotey, eighth by Jaswinder Singh Sootdhar, ninth by Jagdev Singh Kular, tenth by Jasmeet Singh Kular and eleventh by Gurmeet Singh Kular. Eleven entrepreneurs laid the foundation of Kular Sons.
 
Gurmeet Singh Kular President FICO and Managing Director of M/s Kular Sons, said that a new State of the art manufacturing plant of Bicycle, Tractors & Auto components will be set up at D-361, Phase VIII Focal Point, Ludhiana.
 
Other eminent personalities who shared their good wishes were K.K. Seth Chairman Seth Group, Ajay Nagarath Chairman Pearl Polymers, Vipan Mittal Chairman Kudu Knit Process, Harjit Singh Sondh Chairman Surindera Cycles, Jaswinder Singh Bhogal Chairman Uniparts India Group, Upkar Singh Ahuja Chairman New Swan Group, Manjinder Singh Sachdeva Chairman Citizen Group, Surinder Singh Chhatwal Hianken Group, Anil Kumar Surpal Cycles, Gurvinder Singh Sachdeva of M/S H.S. Sachdeva & Sons, Mankar Garg C.P. Agriculture Pumps, Satnam Singh Makkar M.S. Enterprises, Harmeet Singh Kartar Agro Industies, Manjeet Singh Kartar Combine, G.S. Dhillon Udan Media, Mandeep Chowdhry K.P.S. Publications, Abhinav Sharma Autoware, Ashpreet Singh Sahni Sehaj Solutions, Gagnish Khurana Machine Parts, Alok Lamba Sparsh Autos, Jaswinder Singh Soothdhar Universal Sewing Machine, Ajmer Singh Matharoo C.S. Castings, Rajeev Jain R&R Bikes, Jagjit Singh Lotey and Shivjeet Singh Sohal.