Industrialists held meet with Deputy Commissioner
Agenda was cancelaltion of plots by PSIEC and land price allotment in phase VIII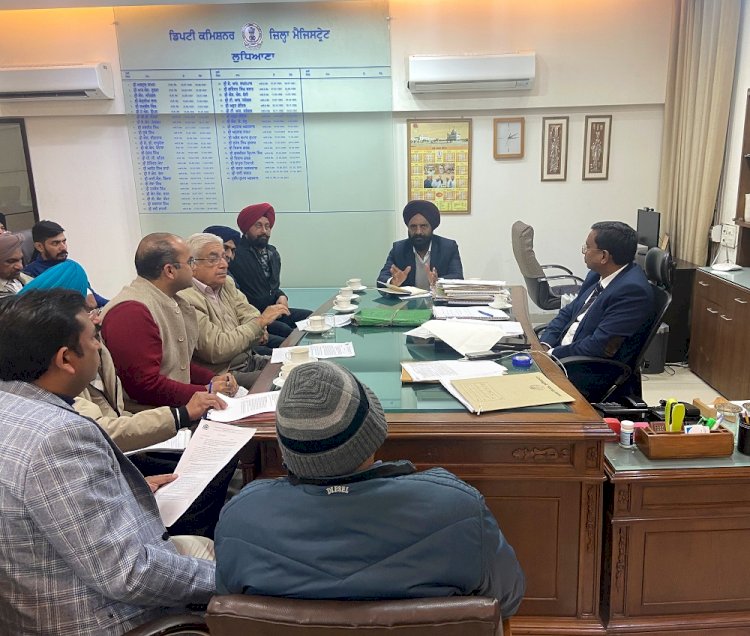 Ludhiana: A meeting was held with Pardeep Aggarwal, Deputy Commissioner, Ludhiana, who has been appointing by PSIEC as Nodal Officers to call out Industry related issues.
The agenda was cancelation of Plots by PSIEC and Land price allotment in Phase-VIII. It was deliberated that the plots which were cancelled by PSIEC on A/C of non-Submission by proof production will stand resorted without by additional charges in casea valid proof of start of production was available. The allotties who has not taken any effective steps so far to stand production, may do so upto 31/09/2020 by paying extra fees.
A few points were discussed by the Committee during the meeting. It was suggested that by the Industry that the extension fees should be chargeable on the bases of the rates. Pertaining year and with a nominal interest. In case where the cancellation was because of any violation. The Plot would restored without any charges in case the Land violation is removed. Adjoining Plots obtained by Allottees for expansion, which have not been developed must be give relief. Address must be updated as plot holders are not getting correspondence. 
Upkar Singh Ahuja, President, CICU stated that PSIEC issued office order on 28.01.2020 in which keeping in view the demand raised by CICU/ allottees of plots & other representative bodies, the Govt. has introduced one time Amnesty Scheme offering an opportunity to plot holders of different Focal Points to get regularized their default in the shape of commercial misuse of the premises i.e. utilize their industrial plot to display their own products/items and also to open factory sale outlet upto 30% of their plot area on payment of conversion fee chargeable for 20% area equivalent to commercial rate as fixed by PSIEC from time to time provided construction of the building is made in accordance with applicable zoning and building bye-laws/rules. This Amnesty Scheme has been made applicable for a period of 3 months from the date of issue of this notification. This policy is being issued with the approval of Industries & Commerce Minister, Government of Punjab.
The meeting was attend by O.P. Bassi, Charanjit Vishwakarma and other apart from officers from DIC and PSIEC.