On occasion of National Voters Day, DC Ludhiana launches e-EPIC
e-EPIC is non-editable and secure PDF version of electoral photo identity card (epic)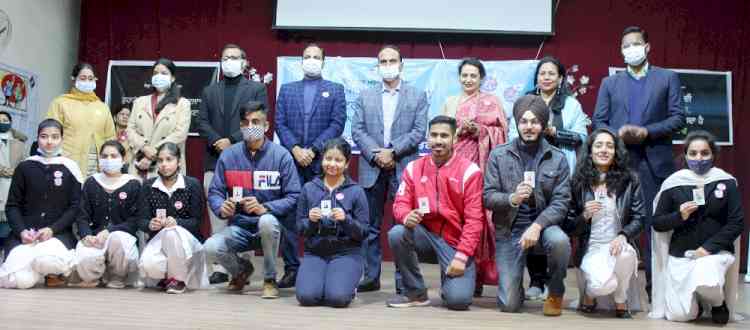 Ludhiana: On the occasion of National Voters' Day, Deputy Commissioner Mr Varinder Kumar Sharma launched the 'e-EPIC', a non-editable and secure PDF version of the electoral photo identity card (EPIC) that can be downloaded on the mobile phone or in a self-printable form on the computer.
A district-level function in this regard was organised at Government College for Girls, here today. Deputy Commissioner Mr Varinder Kumar Sharma was the chief guest of the function. ADC (General) Mr Amarjit Bains, SDM Samrala Miss Geetika Singh, DDLG Mr Amit Bamby, IAS (Under Training) Mr Akash Bansal, GCG Principal Mrs Gurpreet Kaur, GCG Vice Principal Mrs Sukhwinder Kaur, besides several others were also present on the occasion.
Motivating the youth to exercise their right to vote in the elections, he motivated them to come out in a large number during the elections. He told them about the importance of the day being celebrated from January 25, 2011, and to protect democracy, voting is one of the greatest tools given by our constitution.
He said that casting the vote is our duty and everyone should perform the duty sincerely as it would ensure the protection of the rights. He said that we all feel proud to be residing in a free country like India, but all of us should also understand that India gained independence after a lot of struggle. He said that all of us should work hard for strengthening our democracy by exercising our right to vote, which is our duty as well.
On this occasion, the Deputy Commissioner also distributed EPIC cards to five new voters. He said that the e-EPIC would eliminate the wait for delivery of the physical EPIC card after it is approved. "Now, immediately upon approval EPIC will be downloadable. Electors can print the card, self-laminate it or store it digitally, as per convenience. The e-EPIC shall be in addition to the plastic voter EPIC card being issued upon fresh registration. The e-EPIC can be uploaded by the voter on Digi locker and stored securely with other documents," he said.
All new electors registered during special summary revision 2021 those who applied during November-December 2020 and whose mobile number provided while applying is unique, will get an SMS and may download e-EPIC between January 25 and 31, 2021. Thereafter, all other general electors will be able to download their e-EPIC w.e.f February 1, 2021, in case they are having a unique mobile number in the e-Roll. Alternatively, they will have to undergo (KYC) process before downloading the e-EPIC. The e-EPIC will eliminate the need for a voter to get a new card made each time there is a change in address on account of migration.
On this occasion, several officials were honoured for their work regarding voter awareness. SDM Samrala Miss Geetika Singh was honoured for being the best ERO, Dr Khushdip Kaur from Khalsa College for Women for being best Nodal Officer, Mr Bhupinder Singh, ETT Teacher, Government Primary School Galwadi as best BLO, Advocate Hari Om Jindal and Transgender rights activist Mohini Mahant were honoured for the SVEEP activities.
The Deputy Commissioner also administered the oath of exercising their right to vote in a free and fair manner to the students present on the occasion. Videos related to SVEEP activities, slogan writing competition, declamation contest, essay writing competition and poster making competition were also organised.
An awareness van was also flagged off by the Deputy Commissioner on the occasion.