On International Day for Older Persons 2020, Idea Clan ensures safety of the elderly
The Idea Clan team donated a sanitization machine and medications for blood pressure and heart conditions to the Red Cross Old Age Home located in Sector-15, Panchkula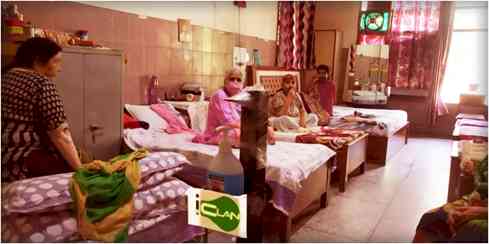 Chandigarh: In honor of the International Day for Older Persons observed on October 1 every year, Idea Clan took an initiative this year with an objective to raise awareness about the risks of coronavirus for the elderly and to ensure the availability and easy accessibility of essentials for them. The Idea Clan team donated a sanitization machine and medications for blood pressure and heart conditions to the Red Cross Old Age Home located in Sector-15, Panchkula (Chandigarh region) on October 01, 2020.

The pandemic has adversely impacted the ageing population and so, this year, the International Day for Older Persons carries major significance to spread the message for their health and safety. Considering the present situation, team Idea Clan visited the Red Cross Old Age Home. The team followed all the safety measures and precautions as they interacted with the members and residents.

This day is entirely dedicated to the needs of the elderly people who are at a higher risk during this time due to the immunity weakening with age. Expressing her views about this initiative, Savita Agarwal, the secretary said, "We are delighted to have Idea Clan here when old people need the utmost care and attention. They have done a responsible thing by donating medicines to our home and considering our needs." The supervisor of Red Cross Old Age Home, Gambhir Singh, added, "The old age home depends a lot on the donations that people make and we are glad that Idea Clan came forward to contribute. We hope they continue to be connected with us and work for the elderly in the future as well."

The Red Cross Old Age Home has been home to the elderly since 2004 and currently, over 30 people reside in this care home with four dormitories equipped with all the facilities built keeping in mind the requirements of the inmates. The authorities organize various activities for the residents including yoga classes, games, and physiotherapy sessions regularly to keep the residents physically active and fit. Pratibha Suri, one of the residents said, "I am happy that Idea Clan came to our home and spent time with us. This was one of the best things that happened around here during the pandemic." Kids from the NGO also plan activities with the residents but this year, due to COVID-19, it would not be possible. So, the authorities might conduct a cultural program for the entertainment of the residents on this International Day for Older Persons and will pay heed to the social distancing norms throughout.