Nykaa Beauty opens its first exclusive beauty kiosk in Thiruvananthapuram
This is 1st exclusive Nykaa Beauty Kiosk in Thiruvananthapuram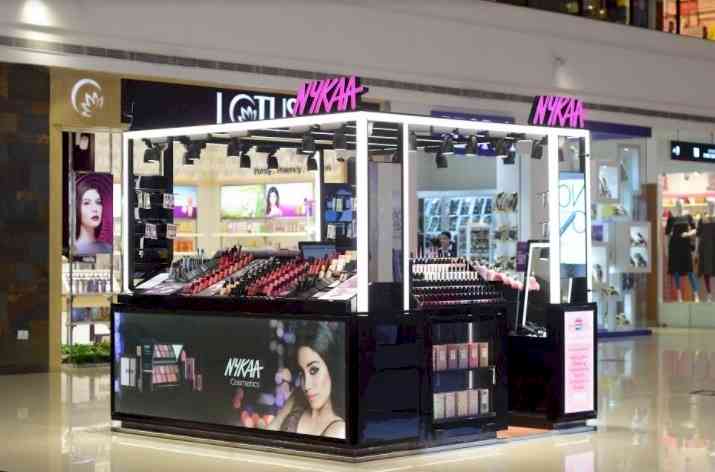 Thiruvananthapuram: One of the fastest growing beauty brands in the country, Nykaa Beauty from the leading omnichannel lifestyle retailer Nykaa, is expanding its retail presence via the exclusive kiosk format pan India. Joining the network is the latest outlet at the Mall of Travancore, Thiruvananthapuram. This marks the offline entry of Nykaa into the city, taking the total count of Nykaa Beauty exclusive locations in India to 8.

A city bustling with culture, Thiruvananthapuram, is all set for a beauty experience like never before. Choose from a wide offering from Nykaa Cosmetics featuring a fine selection of eye makeup including kajals, liners and eyeshadow palettes, multiple options of face products to ace that base, or pick from a vast collection of matte lipsticks available in shades for every skin tone. One can also pamper him/herself with the much loved Nykaa Wanderlust Bath & Body collection, Moi by Nykaa- a line of fine fragrances, Nykaa Skin Secrets Korean sheet masks, or indulge in Nykaa Naturals featuring a selection of essential oils, facial oils and bathing bars infused with naturally derived ingredients.

An accessible brand, Nykaa Beauty boasts of a wide range of products and is a haven for all the beauty bugs. For those who have just embarked on their beauty journey, fear not as the Beauty Assistants at the kiosk will guide you to get the right pick from the extensive range of the brand. The kiosk launches amidst the festive season with an exciting offer running for a month, making it the right time for all the beauty junkies to ace their festive looks or prep for the ongoing festive gifting.

With the promise of 'Your Safety, Our Passion', Nykaa has implemented a series of safety measures to make every customer's shopping experience as contactless and safe as possible. This includes regular fumigation and deep cleaning, frequent hand sanitization and temperature checks for all persons before entering the store. Additionally, social distancing is being practiced with a limited number of employees and customers permitted at any given time.

On the launch, Anchit Nayar, CEO- Nykaa Retail, said, "This is our 1st exclusive Nykaa Beauty Kiosk in Thiruvananthapuram and we are excited to render a tangible beauty experience to our customers. Nykaa Beauty products have seen great traction online from the city's ardent beauty buffs and it was time we came to this evergreen city with a physical format and serve our customers personally. Relentlessly working towards customer satisfaction & safety, we have also implemented numerous hygiene protocols to safeguard the health of our customers and employees".