NSS Volunteers learned about pranayams, meditation and startups on fourth day of the camp
The principal of the college, Prof Sudha Katyal, talked about the myriad career opportunities in the field of entrepreneurship and startups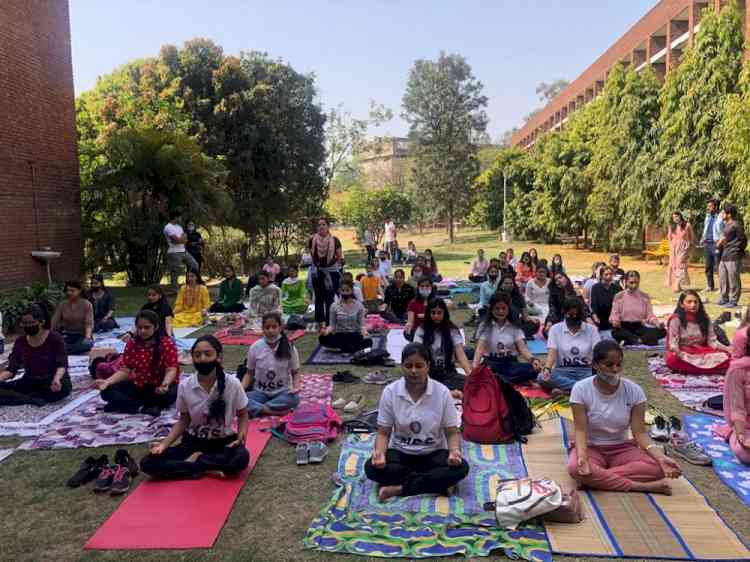 Chandigarh: The fourth day of NSS camp started with a yoga session in which the trained instructor specifically focused on the importance of Pranayam and meditation. While demonstrating the different forms of Pranayama such as Kapalabhati Pranayama, Dirga Pranayama, Viloma Pranayama and Anuloma Pranayama, the instructor also talked about the benefits of pranayams in reducing stress, anxiety and fatigue. Further, the instructor also showed how slow deep yogic breathing and meditation helps in improving mental focus, concentration as well as strengthen the respiratory system. 
Aligning with the Prime Minister's initiative of "Atmanirbhar Bharat", a skill-building workshop on "How to Make Homemade Donuts" was conducted by Anupreet Kaur Sobti ( a student of M.Sc. in Nutrition and Dietetics) for the NSS volunteers. She creatively illustrated the various cooking methods which can be utilized to make homemade Donuts. She also talked about her startup ventures 'Fantasia de Chocolates' and 'Dietura' and motivated the students to become an entrepreneur. She also expressed her gratitude towards the Principal of the college, Prof. Sudha Katyal, for giving her the opportunity to share her first-hand experience and difficulties encountered during her journey of startups. 
Focusing on the idea of Atmanirbhar Bharat, the principal of the college, Prof. Sudha Katyal, talked about the myriad career opportunities in the field of entrepreneurship and startups. Furthermore, she also congratulated the student for achieving this wonderful feat and encouraged NSS volunteers to follow her footprints.