Now this is what I call a powerful comeback
Says Ridhiema Tiwari as Laila in Santoshi Maa Sunaye Vrat Kathayein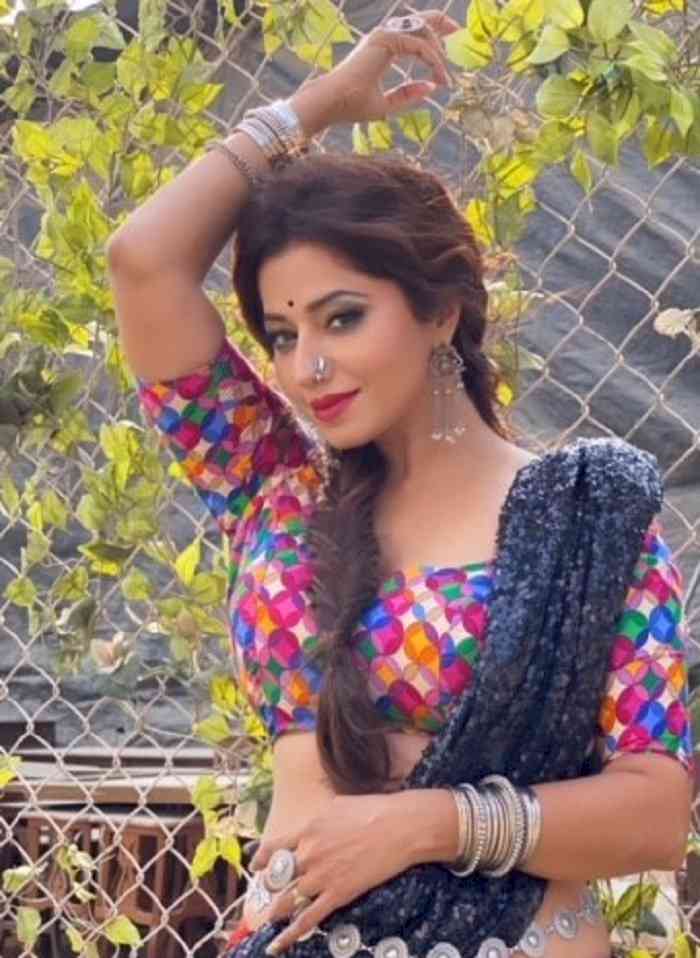 &TV's Santoshi Maa Sunaye Vrat Kathayein has been entertaining the viewers week on week with its high-voltage drama, and various twists and turns. The show now has the sensational Ridiema Tiwari making a head-turning entry as the stunning Laila, a dancer who shares a rather colourful past will create chaos. In a candid conversation about her upcoming role, the artist goes on to share: 
 
•    Tell us in brief about your journey so far?
•    My career in acting came to me at a later stage in life, after testing the waters in multiple opportunities. Having been trained in classic Bharatnatyam early in life taught me the importance of posture and helped me get the right expressions. When I first came to Mumbai, I was keen on journalism and later took up a bank job. But soon it became monotonous for me, and I stumbled upon an opportunity in acting. Soon I became quite passionate about it but lacked experience and formal training. Over the years, I learnt a lot on the job and through guidance from people, I worked harder on my skillsets. Patience, self-analysis, observations, and the undying learning spirit have helped me grow and continue the same process. 
•    Tell us about your character in the show?
•    I play the role of Laila, who is Singhasan Singh's (Sushil Sinha) ex-flame, he and Laila share a rather adventurous past. Lucknow ki Laila is all about adaayein, latke-jhatke and fearlessness. She is a magnificent dancer who is mesmerising. While she is sensual and elegant, Laila is an intimidating woman. We have tried to take some inspiration from the legendary icons such as Rekha Ji, Shabana Azmi Ji, Madhuri Dixit and Tabu. Laila too is a stunner; she is an expression queen who effortlessly gathers a lot of attention while performing in public around the city. What is most enticing is the look and the layers I shall live in this, consciously chalking out my powerful presence in the family.
•    You have been a part of many shows, how is &TV's Santoshi Maa Sunaye Vrat Kathayein different from them all? 
•    Every actor loves challenges; a role that tests their skill sets and allows them to experiment. This role caught my attention for the mere fact that it involves dancing, which is my passion. There is a lot of scope in this role, which was also why I took it on. I am not in favour of monotony and need something challenging and differentiated. This role gives me exactly what I have been looking for and allowed me to experiment. It brings attention to the character as a whole, which makes it all the more interesting. Every actor desires to be in a space I am living right now, and it just keeps getting better. I am humbled with the support and appreciation from my team here.
•    How has your experience been so far on the show?
•    I call this a powerful comeback, as Laila I happened to welcome this new year 2021 while shooting on the show. I have been on foot for almost 8 hours on consecutively for two days, and post lockdown it's been quite festive to be around a lovely bunch of co-actors who have welcomed me with open arms confessing their love for the vibes that Laila is spreading. The muscle soreness & hard work is all worth it. I am living every moment of being Laila and cherishing it with gratitude. 
•    What is the storyline?
•    As of now, everything has been hunky-dory at the Singh household, but as soon as Laila enters the house, she will shake Singhasan Singh thoroughly, thereby changing the family and getting to control everything around her. She has done her homework well and plays her cards well by tossing people around in numerous unpredictable ways such as Babli (Tanvi Dogra) who will be in a fix when Laila blackmails her. Laila will use every piece of information to play against the family members and extort money. She is wicked, but her pleasing looks and nature disguises her negative aura. 
•    What are your expectations from the audience and the show?
•    I feel fortunate to find myself in a show which has been successfully running for almost a year. I am incredibly excited to see the audience reaction, especially my fans who have supported me for so long and loved my performance in Ghulaam since their Ridhiema is back onscreen in her sensuous Indian avatar. In for a dramatic play, Laila's entry in the show will only create further chaos, stay tuned, and watch Laila and her hatke ways.