Now online registration facility available for darshan in temples of Kangra under covid protocol: DC
Says this decision has been taken, keeping in mind the convenience of the devotees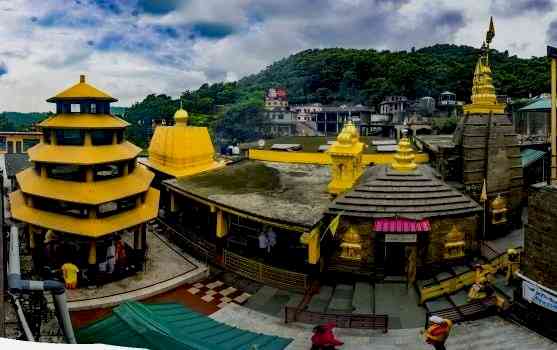 Photo: A view of Bagula Mukhi Temple.


Dharamsala: Devotees can now also register online for Darshan at major Shaktipeeth temples of  Jwalamukhi, Brajeshwari Dham(Kangra) and Chamunda in(Dharamsala) of  Kangra district. For this facility, a link "templevisit.hp.gov.in" , has been prepared by the district administration. The devotees will submit  their detailed information on the prescribed form on this link, after which the district administration will inform the concerned devotees about the timing of darshan etc.
Deputy Commissioner Dr Nipun Jindal said, "This decision has been taken, keeping in mind the convenience of the devotees, so that their time is saved and keeping in mind the  Covid pandemic , the excessive crowd could be avoided in the temples." He said that it would  be necessary to give information about the Covid negative report and vaccination in the prescribed online form.
Dr Jindal said that for the convenience of the devotees, parking, help desk and slip making places have been earmarked within a distance of one to two kilometres from the temple site. He said that the use of masks and compliance of social distance is necessary during these visits .There will be a complete ban on Langars(mass food service areas) during Shravan Ashtami Navratras and the  entry in temples is completely prohibited even during Aarti times.
The Deputy Commissioner said, " a complete ban has been imposed on touching the idols in the temple and ringing of bells etc. Along with this, the entry and exit gates have also been fixed separately." He said that apart from cleanliness, elaborate arrangements for security have also been made in the temples.
Kangra, also known as Dev Bhoomi, is the largest region in the beautiful Indian state of Himachal Pradesh. The temples in Kangra are being visited by lakhs of devotees each year.District has nine famous temples namely:-Brijeshwari Devi Temple , Jwalamukhi Temple ,Baijnath Shiva Temple ,
Chamunda Devi Temple ,Masroor Rock-Cut Temple  , Bhagsu Nag Temple, Bagalamukhi Temple, Nagni Devi Temple  and Kunal pathri Temple .