Novel Coronavirus (Covid 19): People should not panic as Punjab Govt taking serious steps in public interest: Bindra
Holds meeting with officials at civil hospital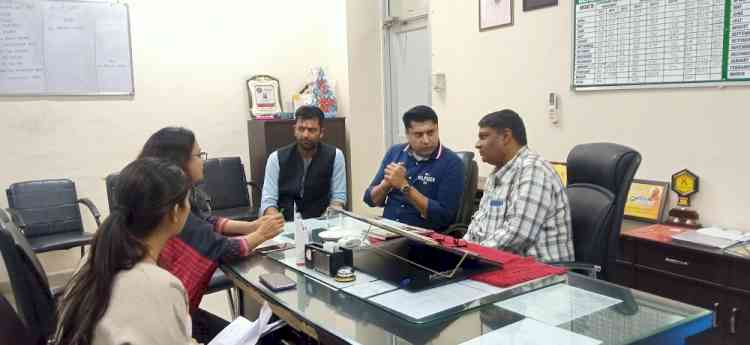 Ludhiana: In view of Novel Coronavirus (COVID 19), Punjab Youth Development Board chairman Mr Sukhwinder Singh Bindra today said that people should not panic as the Capt Amarinder Singh led Punjab government is taking serious steps in public interest. He said that it is due to the efforts of Punjab government that state has not received any positive cases yet.
Mr Bindra today visited the Civil Hospital, here, where he held a meeting with the doctors.
While speaking to media persons, Mr Bindra urged the residents that they should not panic and do not fall prey to rumours on social media. He said that the doctors at Civil Hospital have told him that the District Administration has made all preparations in advance and is ready to tackle any emergency like situation. He stated that till date, no positive case of Novel Coronavirus has been reported in district Ludhiana.
Mr Bindra said that the doctors have told him that there is no need to take any special medicine for treatment and can remain under isolation for 14 days at his home and take normal medication before getting fully cured. He also appealed to the residents of district Ludhiana to ensure that they follow all guidelines and instructions being issued by the Punjab government and Health Department so that one is able to save himself from any untoward situation.
As per the advisory, it has been stated that one should not shake hands or hug anyone, do not spit in open, any person having fever should not go out in public, and keep at least 1 meter distance from any person having sough or fever. If any person is having cough or fever, he should always keep his mouth covered with a mask or handkerchief and should report immediately to their nearest government hospital. Similarly, if any person has travelled to China or Nepal in last 14 days, he should be quarantined for 14 days in his house and should not visit any crowded place. As per the advisory, any healthy person who does not have cough or fever, need not need a mask.
The helpline number for state is 104, for district Ludhiana is 0161-2444193, or Dr Divjot Singh can be contacted at 9041274030 or Dr Ramesh Kumar can be contacted at 9855716180. He appealed to the residents that this disease is fully curable and there is no need to panic.