"Not So Cliched" – a book by Anushka Goyal released
Anushka, daughter of Advocate Anurag Goyal, is a budding author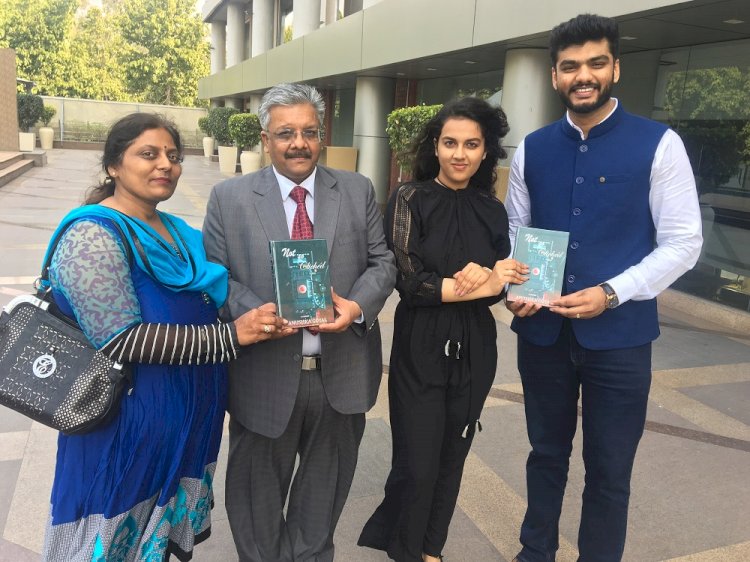 Chandigarh: "Not So Cliched" a book by Anushka Goyal (19 years old) was released by Feanshu Sharma, Founder, Marketing Hook and Anurag Goyal, Advocate, Punjab & Haryana High Court here today.
Anushka, daughter of Advocate Anurag Goyal, is a budding author. She is a film enthusiast, an ardent reader, golfer and singer. Always a leader, she completed her schooling from DPS, Pinjore, where she was the head girl. From the very beginning she has been a bright student, who took interest in all sorts of co-curricular activities.
When asked what inspired her to write a book, Anushka said, "I have a special love for reading books. I own a small library and it provides me sheer joy. At a very young age I started reading the works of Shakespeare, Jane Austen and Enid Blyton. My childhood fantasies involved the magical world of Matilda created by Roald Dahl. I also adored the character Sherlock."
Her father Advocate Anurag Goyal said, "At the tender age of eight, Anushka first ventured into the genre of poetry. Starting with sonnets, she started writing poems of her own. Gradually, it blossomed into writing articles, short stories and the rest is history. As a child she used to sit with us in our home library. It gave her sheer happiness to get lost in the magical world of books. So one day it struck her, what if she could bestow upon people the same kind of magic and create her own world."
She noticed the kind of 'love aaj kal' and decided to write her own tale with the modern idea of romance. Family has always been very supportive and led her to continue her passion for writing while at the same time not losing focus on studies. They gave her a sense of direction so as to pursue her passion.
Anushka said that for this very book, took her about five months to create the story, establish consistency, editing and overcoming the writer's block. "I plan on pursuing psychology and writing narratives in my near future."
She further said, "Honestly, its hard, but when something gives you as much satisfaction and happiness as writing gives me, you manage. I used to study and attend college in the day and come back home to write in the night. For about two months, I slept only for three hours a day. I have no favourite author in particular. As a child, I loved to read Roald Dahl, Enid Blyton and Agatha Christie. With the time, I started loving the works of Shakespeare and Jane Austen."
So far as her latest venture 'Not so clichéd' is concerned, it is a simple story with complex characters. A story which is imaginary, but feels like real. The protagonist Naina is someone who is fiery and bold, yet naive and gullible. She is the girl next door, who falls in love, that too with her best friend. A series of turmoils in the journey of love are portrayed to the extent that feels real. She faces hardships, just like all of us do. Although it's Naina's story, but it basically is all of ours story.
Not So Clichéd takes you to the non-fictitious side of love. The protagonist is flawed yet bold. Her choices are brave and her decisions irrevocable. She loves like a child yet envies like a woman. Naina's love story is one that you won't forget in years to come and empathize with.
Anushka's mentor is Feanshu Sharma, who started his career with Career Launcher, then moved to EduCorp Consultancy, where he became the youngest business development manager. He has trained over 10,000+ individuals, and is a corporate trainer too. Later on he started his own company, the Marketing Hook.