Non surgical future of obesity management endoscopic sleeve gastroplasty introduced in Tricity
30 million of India's adult population is either overweight or obese and 62 million diabetic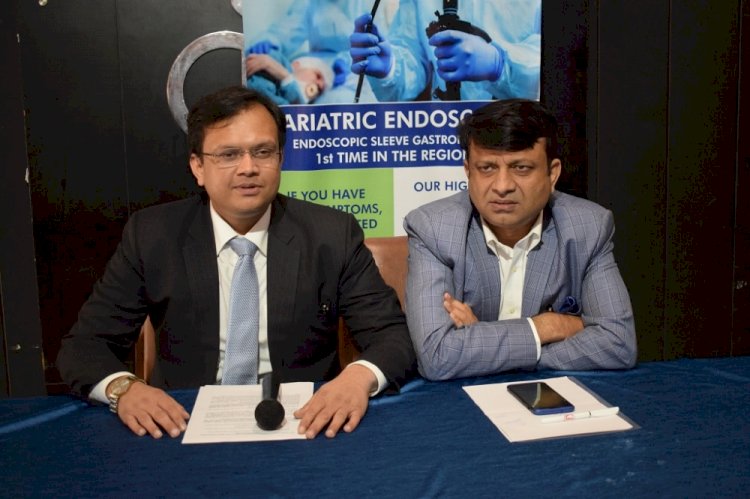 Dr. Rajan Mittal,Consultant Gastroenterology, Interventional Endoscopy, Bariatric endoscopist and Mr. Ashish Chadha, Facility Director at PARAS Hospitals Panchkula during conference.
Chandigarh: To Create awareness on "Obesity & its Health Hazards" a team of Doctors from Panchkula, addressed the media person today. Speaking on the occasion Dr Rajan Mittal, Consultant Gastroenterology, Interventional Endoscopy, Bariatric endoscopist said that "Obesity is an epidemic and India is right in the middle of a fat explosion."

Dr Rajan shared that 73% of urban Indians are obese, that is 3 out of 4 people and a recent Lancet report quotes that 34% of India's population is insufficiently active. What is even more alarming is that millions of youngsters and millennials are battling medical conditions and complications that arise from obesity - such as type-2 diabetes mellitus, Obstructive sleep apnea, Osteoarthritis, Low self-esteem, Depression, Infertility, Hernias, Cancers and Heart Failure.. Not to forget, the implications of the incalculable emotional cost attached to it. Obesity has led to an immense increase in the mortality rates across the nation – nearly reducing life expectancy by 9 years in women and 12 years in men.
Dr Rajan Mittal shared that nowadays Bariatic Surgeries are on a rise in India, as people have become more aware of complications that obesity brings.
Endoscopic Sleeve Gastroplasty, commonly known as ESG is not a surgery, but extends benefit of Surgery. It is a Non-Surgical procedure done endoscopically (pipe inserted through the mouth) . ESG involves suturing of the stomach from inside firstly leading to reduction in the size of the stomach & secondly whatever food is eaten, stays in stomach for longer time, hence causing sense of fullness and leads to prolonged satiety.
Dr Rajan further briefed that it is a 45 min daycare procedure, wherein patient is discharged same day and he/she resumes normal work from next day onwards. Patients who have undergone this procedure loose up to 18-20% of their total body weight over a period of 3-6 months. ESG is also indicated in patients who are not fit for conventional Bariatric Surgery.
On this occasion, Mr. Ashish Chadha , Facility Director at Paras Hospitals Panchkula said that "Metabolic Surgery is the right term to be used for this procedure, as this is  No longer for weight loss only. He proudly announced that PARAS Hospitals Panchkula becomes the first Hospital in the region to start Endobariatrics and it will be a boon for obese patients in this region.