Ninth edition of MachAuto Expo 2020 from Feb 21
With 575 exhibitors, expo to showcase latest technology and smart manufacturing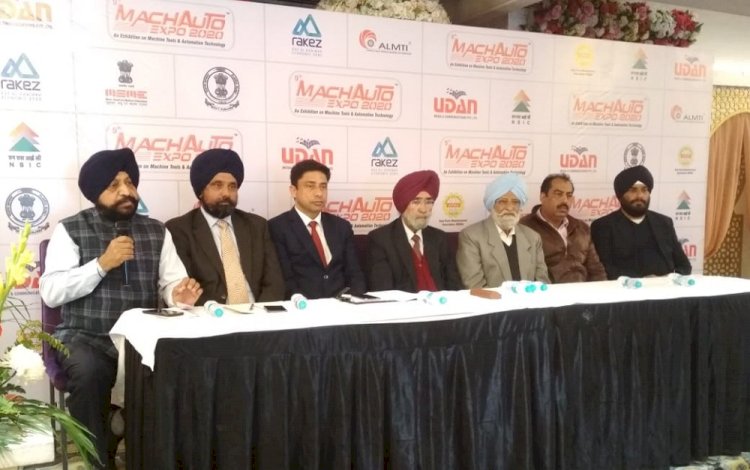 Ludhiana: Ninth edition of MachAuto Expo 2020, India's Leading Exhibition on Machine Tools & Automation Technology will kick start from February 21 to 24 at GLADA Ground Chandigarh Road, Ludhiana. This was announced by Mr. GS Dhillon, Managing Director Udaan Media and Communications Private Limited. The Expo will showcase latest Machine Tool Technology and Smart Automation.  
The motive of the expo is to provide the perfect platform for the MSME units to showcase latest technologies and innovations under one roof. Mach Auto focuses on machine tool, auto parts, engineering machinery, hand tools, and CNC machines. 
During the Expo, the Latest Multi tasking CNC machines will be displayed. Apart from this, Internet Of Things (IOT) which will reveal real time production work and other information of the work will be on display. The top companies of the World will showcase their products and display Industrial automation with Colloborative Robot.  The expo will be supported by  Association of Ludhiana Machine Tool Industry, Auto Parts Manufactures Association (India) and other associations. A training camp will also be held in the Expo which will guide the industrialists about the use of latest techniques and machinery. 
Addressing the Press Conference, Mr. GS Dhillon, Managing Director Udaan Media and Communications Private Limited revealed that 575 exhibitors from India and 20 other countries will be participating in the exhibition and they are expecting more than 50,000 visitors from PAN India  in the India's largest Expo to be held from February 21 to 24. 850 Running Machines will be on display in the exhibition.
GS Dhillon further informed that the motive of expo is to support 4.0 Industrial Revolution by introducing and exhibiting the latest technology and Automation on Industry.
Gurpargat Singh Kahlon, President of Auto Parts Manufacturers Association said that expo will help in the development of Industry as the industrialists will able to witness, learn and adopt the latest techniques, machinery available in market. 
To mark this exhibition, this year "MachAuto Expo" is about to set the industry to a new pace and standards and will also be the top notch destination for industrialists who are looking for low cost automation with high end quality and various solutions related to automation machinery.
The press conference was also adressed by Jagtar Singh from Machine Tool Industry, Gurpal Singh, Gurpreet Singh Kahlon, Mr. Kundan lal, Vishal Bhatnagar, Sushil Kumar and others.