NGT team reviews ongoing measures being undertaken to save environment in Ludhiana
NGT team shows satisfaction over measures being undertaken by various government departments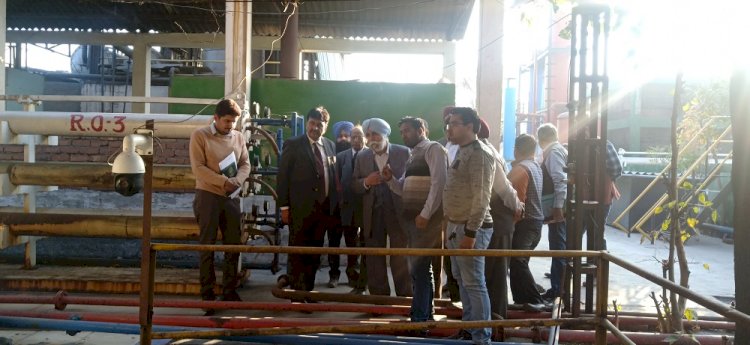 Ludhiana: A high-level team of National Green Tribunal (NGT) headed by Justice Jasbir Singh, Chairman, NGT Monitoring Committee for rivers Sutlej and Beas and comprising Mr Mr SC Aggarwal, Chief Secretary (Retd) Punjab and senior member of NGT Monitoring Committee for rivers Sutlej and Beas today reviewed the ongoing measures being undertaken by various government departments as well as other stakeholders in saving our environment.
The team first held a meeting with the government officials at Circuit House, after which they visited the Budha Nullah near Haibowal, carcus site near Ladhowal, Solid Waste Management Plant on Tajpur Road and Common Effluent Treatment Plant (CETP) in Focal Point, here today. They also planted a tree sapling on the banks of Budha Nullah.
Justice Jasbir Singh informed that the main aim of today's visit was to review the progress of works being reviewed during the meeting held in November 2019. He showed satisfaction over the ongoing works, but also stressed that further improvement is expected. He said that the officials were sensitised over the deadlines of all ongoing works and were directed to follow these deadlines strictly as no lapse would be tolerated by the NGT.
He further urged the city residents to join hands and build a mass movement for saving our environment. He said that it is duty of every citizen to protect our environment for our future generations and urged them to assist the government departments working in this regard so that positive results can be achieved.
He said that to ensure proper coordination amongst the government departments, Deputy Commissioner Ludhiana has been appointed as the head of district level Environment Committee as well as the NGT task force. He said that the Deputy Commissioner has been reviewing the progress of all tasks undertaken in this regard on monthly basis. He said that the NGT is committed to ensure that Budha Nullah becomes clean soon.
Prominent among those who attended the meeting included Deputy Commissioner Mr Pradeep Kumar Agrawal, ADC (D) Mrs Amrit Singh, MC Commissioner Mrs Kanwal Preet Kaur Brar, GLADA Chief Administrator Mr Parminder Singh Gill, MC Additional Commissioner Mr Sanyam Aggarwal, MC Zonal Commissioner Mr Neeraj Jain, senior officials of Punjab Pollution Control Board, besides several others./(Feb 13)