NGT hails establishment of animal carcasses processing plant, slaughter house and CETPs for textile units in Ludhiana
Directs Municipal Corporation, Ludhiana to upgrade Sewage Treatment Plants by March 2021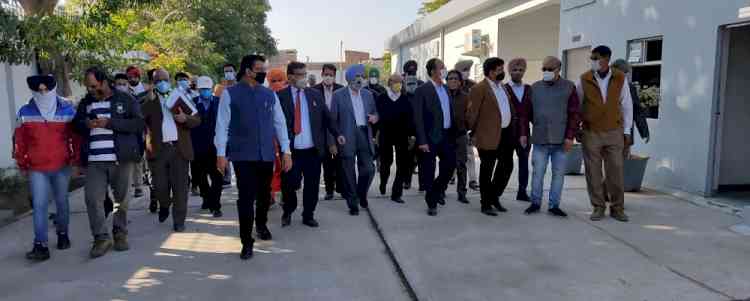 Ludhiana: The National Green Tribunal (NGT) on Friday, hailed the initiatives of establishing Modern Animal Carcasses Processing Plant, Modern Slaughter House, CETPs for textile dyeing units and Micro Forests in the district .
The six-member monitoring and executing committee of the green panel led by Justice Jasbir Singh and Justice Pritam Pal made a first physical visit to Ludhiana after the COVID-19 to review the status of various works being carried out by the Municipal Corporation Ludhiana and Punjab Pollution Control Board (PPCB) related to cleaning of Buddha Nullah and Solid Waste Management among other issues. Committee members including SC Agrawal( Ex. CHIEF secretary, Punjab), Urvashi Gulati( Ex Chief Secretary, Haryana), Sant Balbir Singh Seechewal and Technical Expert Dr Babu Ram were also present on the occasion.
The committee has visited Modern Animal Carcasses Processing Plant, Real Time Water Quality Monitoring System installed in Buddha Nullah, Micro forest area developed along Buddha Nullah, Slaughter House, Onsite Floating Drums and CETPs etc.
Justice Jasbir Singh said that the committee appreciates the initiatives including setting up of Modern Animal Carcasses Processing Plant, Modern Slaughter House , CETPs for textile dyeing industries and Micro Forests in the district.
He also directed the Municipal Corporation authorities to ensure 100 percent treatment of sewage by upgrading the Sewage Treatment Plants (STP) to the required capacity so that no untreated water shall be drained into the Buddha Nullah.
Justice Jasbir Singh said that according to the NGT orders, if the district won't start STPs before March 31, 2021, a penalty of Rs 10 lakh per drain per month will be levied. He also asked the district authorities to commence the work related to in-situ remediation before July 1, 2021.
He also appealed to residents of Ludhiana to at least start doing source segregation. "If you just start doing source segregation of waste, you could be a big contributor in achieving the cleanliness campaign," he said.
The Committee also examined and closely monitored the functioning of the recently commissioned 15 MLD CETP set up for the dyeing cluster of Bahadurke Road, Ludhiana. Justice Jasbir Singh appreciated the efforts of the SPV and Punjab Pollution Control Board for setting up this project which has tremendously brought down the water pollution levels. He further directed the SPV of Focal Point and Tajpur Road dyeing cluster to commission their respective CETP plants by December 31, 2020 and use their treated effluent onto land for irrigation so as to completely segregate the industrial and domestic effluent of the city
On the occasion, Deputy Commissioner Varinder Kumar Sharma, Commissioner Municipal Corporation Pardeep Sabharwal and Senior Environmental Engineer Er Sandeep Bahl among other prominent persons were present.
Meanwhile, Advocate Harpreet Singh Sandhu presented the committee with Amla (Indian Gooseberry) Tree Plants ahead of 551st Prakash Purab of Shri Guru Nanak Dev Ji.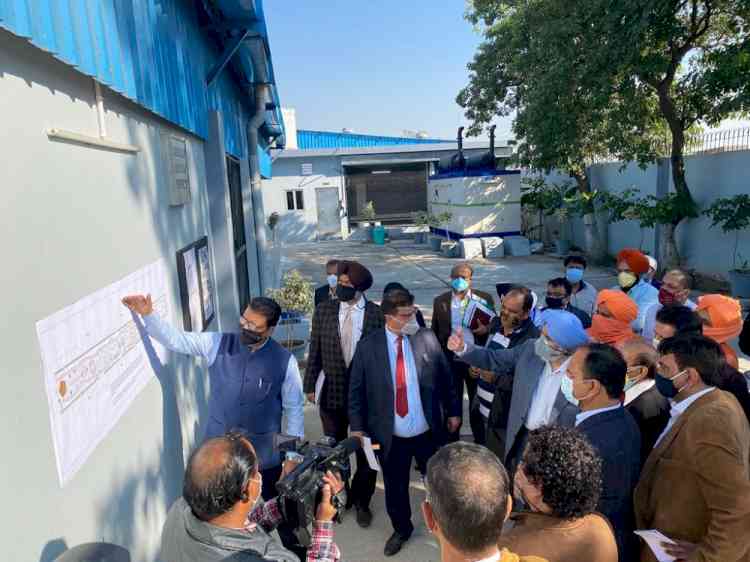 Ludhiana Smart City Ltd (LSCL) director Ar Sanjay Goel explained to visiting NGT team about plans to beautify demarcated lands along nullah by means of railing work followed by micro-forests /landscaping /walkways/children playing areas etc so as to start cleaning from all parameters. He said public living nearby must like surroundings rather than hate it always.