NGO `I am Still Human' distributes sanitisers and masks to poor
Spreads awareness about countering COVID 19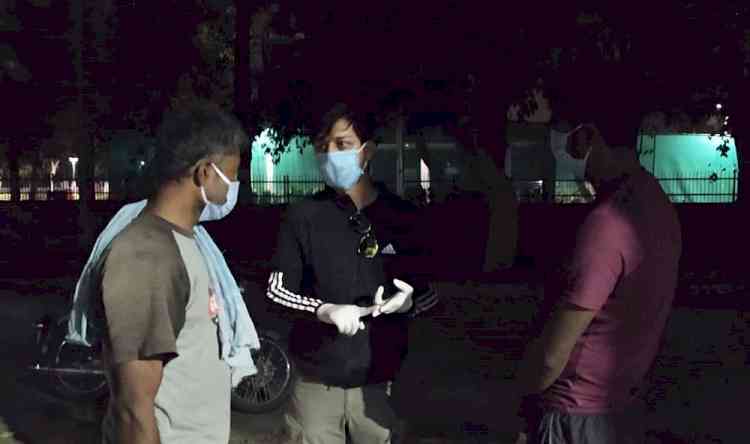 Vivek Mehra, Founder of 'I am Still Human' distributing masks and sanitisers to the underprivileged.
Chandigarh: Chandigarh based NGO 'I am Still Human'(IASH) has initiated a campaign to help the underprivileged during the COVID 19 pandemic. The young team of IASH in its campaign, which has started, is targeting the poorest of the poor which includes daily wage earners,  people living on the footpaths, slums and physically challenged people on the streets. Under the campaign sanitisers and masks are being distributed by the founder and volunteers of IASH. Not just this the NGO is also making arrangements of rations for these people. The strategy being adopted is to make rations available for 15 days per person.
 
Vivek Mehra, Founder, 'I am Still Human' said, "The livelihood of those living in slums and on footpaths depends on what they earn by doing daily work. The national 21-day lockdown which is of utmost importance, has resulted in loss of work for these people. In such a situation they need to be helped for not just provision of important things like sanitisers, soaps and masks to ward off getting infected, but also giving them rations so that they are able to tide over the 'daily needs' crisis' during  the lockdown. We are working on both aspects."
 
In case the COVID 19 crisis gets worse, there will be a shortage of medical facilities and food supplies which will hit the under privileged segment the most. In this situation, the NGO's support to the poor segment of society, will go a long way in mitigating their hardships.
 
Adds Mehra, "The free distribution of sanitisers and masks has started and in the next phase we intend to provide them with basic food kits, so that they do not sleep hungry during the lock downs and curfew."
 
'I am Still Human' has got the support of Big Rox & Eduvelocity under these organisations' Corporate Social Responsibility plans. It is noteworthy that IASH has partnered with The Catalysts PR to spread the message through media.  
 
The initiative bears significance as it has in focus a segment of society which assumes great importance in the fight against Corona. It is pertinent to mention here that 'I am Still Human' through its social campaigns, has worked a lot for the welfare of the armed forces and also in the field of women empowerment.