Next SAD-BSP govt will establish solar capacity to make power subsidy bill redundant in two years time: Sukhbir 
Says will also encourage industrialists to develop their own solar capacity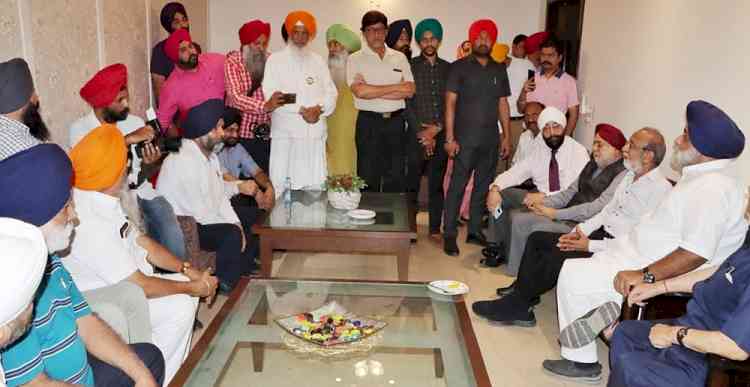 Ludhiana, October 16, 2021: Shiromani Akali Dal (SAD) President Sukhbir Singh Badal today announced the forthcoming SAD-BSP alliance government would establish solar capacity to make the free power subsidy bill redundant in two years besides coming up with a policy which would allow the industrial sector to develop its own solar capacity
In an interaction with industrialists and intellectuals here which was arranged by Mr Bhupinder Bhinda, the SAD President said the next SAD-BSP alliance government would establish solar power capacity to meet the Rs 12,000 crore annual subsidy bill vis a vis free power given to farmers. He said a 10,000 mw solar power facility could easily be established at a cost of Rs 25,000 crore. "In two years we will recover the investment by meeting the subsidy requirements of the State".
Mr Sukhbir Badal said "we also want industrialists to establish their own solar plants. Alternatively they can also be established at industrial focal points. In four years the savings will pay off the cost of the solar power infrastructure and in a structured way the power bill will be zero". He said by going in for solar energy industrialists could also save the 21 per tax on power bills.
In a freewheeling conversation, the SAD President said Punjab needed to give the next big push to the industries and services sector. "We believe that initiatives including availability of assured cheap power coupled with ease of doing business philosophy can bring in fresh investment besides encouraging our home grown entrepreneurs to expand further". He also announced that a special policy would be unveiled to encourage women entrepreneurs by making loans of up to Rs ten lakh available to them to establish their own enterprise.
Mr Badal also disclosed how the next government would give a boost to State education. "We feel that it is best to develop one composite school at the block level. This will help in concentrating all resources at one place and is also in the interest of teachers who do not wish to teach in remote locations". He said this would be in continuation of the SAD's policy of giving top priority to education as had been done under the leadership of S Parkash Singh Badal. "In our last tenure we created meritorious schools to provide quality education free of cost to deserving students. These schools were closed immediately after the Congress took over the reins of the State". He also disclosed how the erstwhile SAD led government brought in the ISB, IIT and IIM into the State besides giving a fillip to professional education.
Speaking on the occasion, senior leader Maheshinder Singh Grewal said the last nearly five years of Congress rule had led to a feeling of insecurity in the trade and industrial circles besides endangering peace and communal harmony. He said gangster culture was encouraged due to which extortions and even murders were being carried out from the jail. He said Punjab needed a government which was accountable and a leader like S Sukhbir Singh Badal who was responsible for ushering in development, establishing expressways and airports as well as making the State power.