New model for concrete lining of water channels (khaal) being developed: Sarkaria
Under Rs 477 crore Kotla Project, water channels for cultivation purposes to be constructed of concrete in 4 districts of state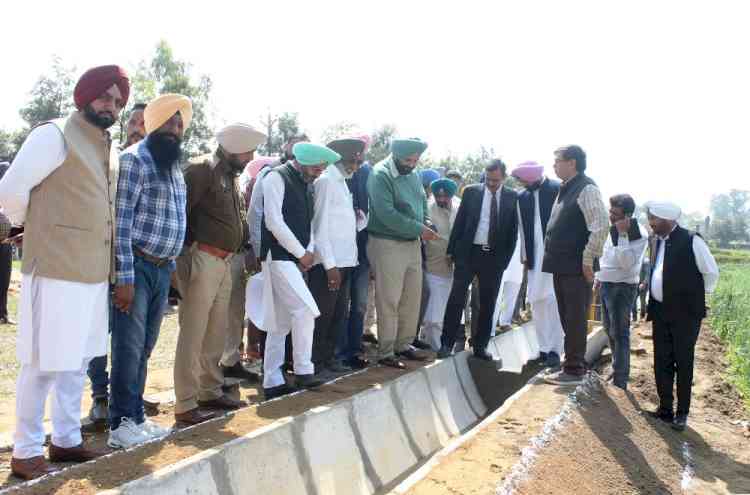 Doraha (Ludhiana): With an aim to ensure that maximum area under cultivation gets connected with canal water and to check depletion of underground water, the Punjab government is preparing a model in which all the water channels (khaal) would be made of concrete. Under this new model, the water channels would be strengthened by using cement instead of bricks. This model would be much cheaper and effective than the existing model.
    This was informed by Punjab Water Resources Minister Mr Sukhbinder Singh Sarkaria while supervising the ongoing arrangements of Punjab Water Resources Management & Development Corporation in this regard at village Gurthali near Doraha town of district today.
    Mr Sarkaria informed that under this project, which has been started with the support of Union government, funds amounting to Rs 477 crore would be spent in the first phase. He said that around 3800 km long water channels are concrete lined in four districts of the state, Sangrur, Barnala, Mansa and Bathinda and it would cover 1,46,658 hectares of land. He said that a pilot project in this regard would be started at Maur (district Mansa) and it would be ready by 2022.
    He informed that earlier, the water channels were strengthened by using bricks and cement, but now cement and crusher (bajri) would be used. He said that earlier, the life of water channels was around 15 years and they used to get damaged after some time due to flow of water. But with this new technique, the life of water channels would be at least 50 years. He informed that the design of these water channels have been developed by the corporation officials themselves.
    Mr Sarkaria stated that with the construction of these water channels, the problem of leakage would be eradicated completely and it would help in checking the depleting underground water level.
    Prominent among those present on the occasion included MLAs Mr Lakhbir Singh Lakha and Mr Gurpreet Singh GP, Department Principal Secretary Mr A Venu Prasad, Punjab Water Resources Management & Development Corporation Chairman Mr Jagbir Singh Brar, Zila Parishad Chairman Mr Yadwinder Singh Jandiali, SDM Mr Sagar Setia, Punjab Water Resources Management & Development Corporation Managing Director Mr Varinderpal Singh, Nagar Council Doraha President Mr Bant Singh Doburji, Executive Engineer Mr Shammi Singla, besides several others.