Net Profit of Punjab & Sind Bank zooms to Rs 174 Crores for quarter ended 30th June 2021
S Krishnan, MD & CEO declares Q1 results at virtual press meet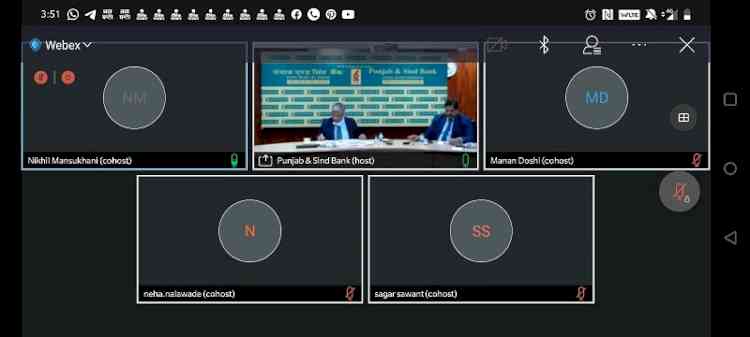 Chandigarh: At Virtual Press Meet declaring the Q1 results, S Krishnan, MD & CEO said that during the first quarter of the current FY 2021-22, the Bank has shown robust and resilient performance in almost all the business parameters. The Bank has shown tremendous turnaround by registering Net Profit of Rs.174 Cr as at 30.06.2021 as against Net loss of Rs.117 Cr as at 30.06.2020.
The Bank registered a YoY growth of 13.27% in the Total Business and an increase of Rs.19501 Cr. RAM (Retail, Agriculture and MSME) segment advances shown a growth of 8.08%, 12.27% and 12.87% respectively. Bank has surpassed the regulatory targets of 40% and 18% in Priority Sector & Agriculture Credit respectively. CASA registered a growth of 14.29%.
S Krishnan informed that the Bank continued its special focus on NPA Recovery and thus recovered Rs.858 Cr including recovery of Rs.124 Cr in Technically Written-Off (TWO) accounts thus registering a remarkable performance.
Even during the pandemic, the Bank has been able to extend uninterrupted services to its esteemed customers beholding the tagline of the Bank i.e. "PSB - Where service is a way of life..."
S Krishnan thanked all the valued customers for their continued patronage and support to the Bank during the tough times thus helping Bank to register profit in two successive quarters.
Further, he assured that Bank is working with resolute and unwavering commitment & dedication towards its turnaround and to achieve greater milestones during FY 2021-22. 
Today, Punjab & Sind Bank declared the reviewed financial results of the Bank for the quarter ended 30th June 2021.