Neelu Vaghela: Azaad is building a `Naya Soch' with show Pavitraa Bharose Ka Safar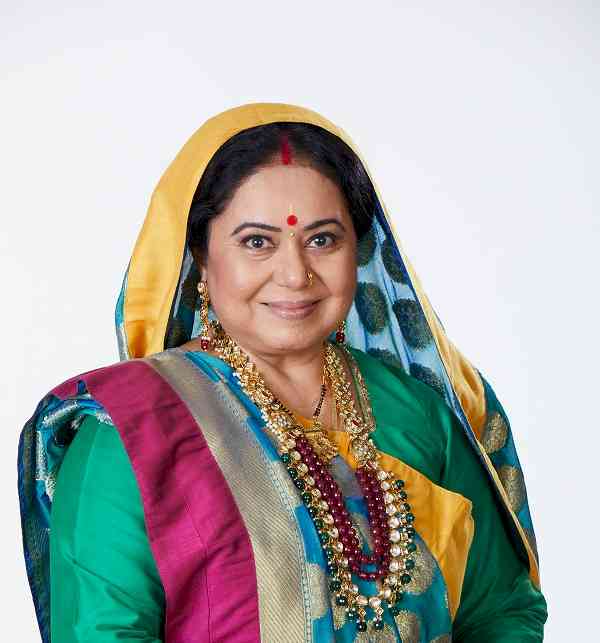 Neelu Vaghela.
Veteran actress Neelu Vagela is the most admired star on television. With a massive fan following in India & abroad, the versatile actress steals the scene with her captivating screen presence and stellar acting. In her new role on Azaad's Pavitraa Bharose Ka Safar, she shares why the role appealed to her and more.
Tell me about your new show Pavitra Bharose Ka Safar?
As the name says, it is a journey of trust. This is the story of a woman and touches upon all topics concerning a woman and her life, women who live in rural areas with backward traditions and cultures. The show deals with the boundaries that still surround rural women despite the world progressing at a very fast pace.  The young girls of these areas are never allowed the freedom to dress the way they want to, not allowed to go out of the house to even study. They are always told that their only purpose of their existence is to get married.
I think there has been a lot of thought that has gone into the shows that Azaad is telecasting. The channel is pushing forward the `naya soch' via its shows. The show is about how you need to adopt your culture but not limit your freedom. 
I am also from a village in Rajasthan and have seen a lot of this happening. The show says that you should give respect but should not `suffer' under the garb of respect and not let others take undue advantage of women. The show's `soch' is that our girls should be educated such that they are not be fooled by anyone in life.  We should, as parents, be a friend to our children. Pavitra is about a girl who moves from a small house to a big house and all the adjustments that she has to make and the challenges she has to face. 
Tell us about your role?
I am Uma Devi, the Thakurain in the show. Uma is bound by traditions and is not treated well by her husband. But when she is out of the confines of the house, she also wants to command respect. There are three shades in Uma Devi's character: she is a wife, a mother and a mother-in-law. It takes her 15 long years to establish herself in the household. She has ensured that the elder daughter in law of the house – Rekha cuts all her ties with her parents so that she does not have to leave the house to visit her parents. It's been five years that Rekha is longing to meet her parents. Thakurain has no control over her husband or son and hence establishes her dominance over the daughter in laws.
How did you come on board for this project?
I was approached by the channel. And when I learnt about the intent of the channel, I wanted to take up the assignment. Till date, I have not heard the complete storyline of the show. But the number of scenes that I have already shot for show, all the shades of a woman: a wife, a mother, and a mother in law are there. And how the nuances of her character change with every life character that she is playing. I have liked working in the show, the star cast and production is very nice. The channel Azaad and the production house Paarth Productions are leaving no stone unturned to make a good show and bring it to the audience. 
How did you prepare for the role?
I try and always be a natural actor, I have not learnt any acting skills. I think I have God's gift which gives me the strength to portray the character well. I do absolutely no preparations for a role, everyday is like an exam for me. I am still as insecure as when I was for my first shot. I keep wondering if I will do justice with the character. I just try and do my best. 
How was it shooting for this show post the pandemic?
There are many changes that we have had to adapt to, post the pandemic. We cannot interact so much with our co-stars, takes very long for make-up as everyone is working in a very scared atmosphere. There is a lot of pressure on the director and the production house to finish shoots in the stipulated time frame. The support staff  has considerably reduced and our dependence on each other has increased considerably. Now we feel the whole unit is our family and we try and help each other as much as possible. 
The pandemic and indirectly God has also taught us many lessons: Don't go far away from your loved ones and be faithful to your work. This is a lesson. How you are living your life is what the pandemic has taught us.
How did you venture into acting?
I was 5 years old when I was witnessing the shooting of movie Bidaai which had Jeetendra and Leena Chandrawarkar. The production house was looking for someone to act as Jeetendra's younger sister. And I was offered the role. Durga Khote was my mother in the film. The director of that film had predicted that I would one day become an actress. So I did not have to audition for any role. Acting just happened. I have never auditioned for any role. Even for Diya Baati…., I got a direct call. I have done more than 55 Rajasthani films as a leading lady. I have acted with Govinda, Rakesh Roshan, Asif Sheikh, Raj Kiran.
Do you think Rajasthani cinema is any different?
No. Between Bollywood and any regional cinema, only the scale and the locations will be different. The stories are normally the same. My films worked because they were relatable, were more connected to the audience and reality. The audience is the same for both Bollywood and regional cinema. If the audience does not find the story relatable, the film will not work, be it in Bollywood or regional cinema. It's not about the budget.