Nauni Varsity's vegetable center declared best in country by ICAR
Bagged first prize among 60 centers from India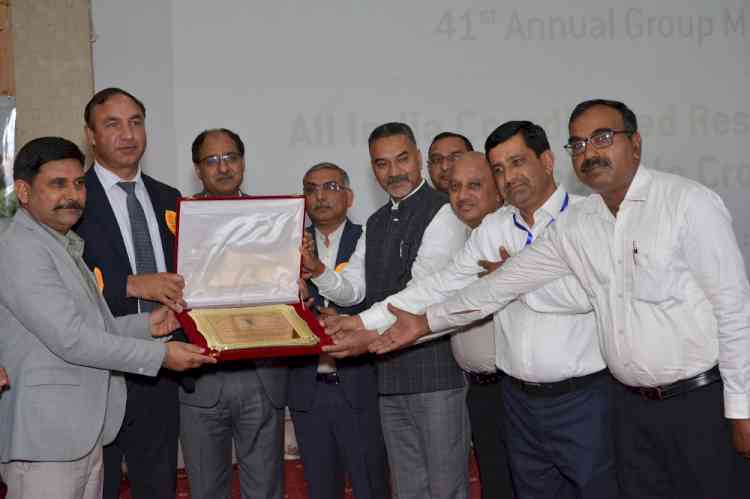 Nauni, June 4, 2023: The Solan Center of All India Coordinated Research Project (AICRP) on Vegetable crops has been adjudged 'Best Research Center on Vegetable Crops (2022)' in the country by the Indian Council of Agricultural Research (ICAR). The award was given for the center's outstanding contribution to research on vegetables under AICRP. There are 36 regular AICRP centers and 24 volunteer centers from across the State Agricultural Universities and ICAR Institutes in the country. The Department of Vegetable Science of Dr YS Parmar University of Horticulture and Forestry (UHF), Nauni runs the Solan AICRP Centre on Vegetable Crops.
The award was given on Saturday at the 41st Annual Group Meeting of AICRP at Sher E Kashmir University of Agricultural Sciences and Technology, Kashmir(SKUAST-K) by university Vice Chancellor Prof Nazir Ahmed Ganai in the presence of UHF Vice-Chancellor Prof. Rajeshwar Singh Chandel.       
Over 300 delegates, including ICAR ADG Horticulture Dr. Sudhakar Pandey; Director, Indian Institute of Vegetable Research (IIVR) DR TK Behera; Vice Chancellors of several agriculture universities, directors and heads of various institutions and vegetable scientists from across the country are participating in the three-day annual meet where the latest technologies, cutting-edge research, and innovation in vegetable cultivation are being discussed. Dr. Ramesh Bhardwaj, Dr. Kuldeep Thakur, Dr. Sandeep Kansal and Dr. Divender Mehta and Dr Rakesh Kumar, scientists from the UHF also attended the meeting.
The Solan Center is a regular center of AICRP (VC), established in 1972, and is engaged in research on all basic, strategic and applied aspects of horticulture. Dr. Ramesh Bhardwaj, Principal Investigator of the center informed that during the past five years, the center has collected, evaluated and maintained a total of 553 germplasm of several vegetable crops including cabbage, cauliflower, capsicum, carrot, radish, beetroot, cucumber, garden pea, beans, lettuce, tomato, cherry tomato, onion, etc. A total of 109 varietal trials, 38 hybrid trials, 11 resistant varietal trials, 09 vegetable production cultivation-related trials, 68 disease and insect pest management trials and 31 seed production trials related to 14 vegetable crops were conducted successfully by the center.
It has also developed and released many improved varieties/hybrids of different vegetables and 12 of them have been identified under AICRP (VC) Programme. Apart from this. 6 vegetable varieties developed by UHF, Solan are being used as national check varieties for AICRP (VC) trails. During the period 27 genotypes/varieties/ breeding lines identified for release in AICRP (VC) have been registered with NBPGR, New Delhi. Besides, UHF Solan has also developed 9 production and 12 protection technologies on various aspects which are widely accepted by the growers of Himachal Pradesh and adjoining hilly states. The institution produced 31.39 quintals of breeder seeds for different vegetable crops. The scientist of the center has published 46 research papers and over 16 awards/ fellowships have been received in the past five years.
UHF VC Prof Rajeshwar Singh Chandel congratulated the team for bringing laurels to the university.