Nandy Sisters Release Romantic Pop Song, "Takayaka Makajhum"
In their latest single, Antara and Ankita Nandy retain their music's signature folk flavour while leaning into a groovy new sound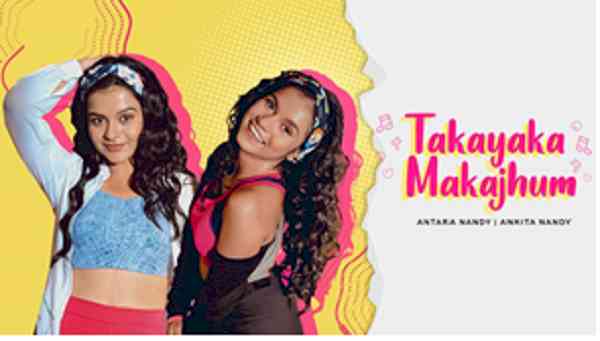 Mumbai: Qyuki artists Antara Nandy and Ankita Nandy(The Nandy Sisters), who took the Internet by storm last year with their Balcony Concert series, have released a new single — "Takayaka Makajhum." Named after a phrase that children from the state of Jharkhand and Bihar often use while playing, "Takayaka Makajhum" sees the Nandy Sisters hold on to their folk roots while exploring a groovy new sound. Set to sparkling production by Bob Phukan and featuring fluid dance choreography, the music video for "Takayaka Makajhum" sees the musical duo express the excitement that comes with falling in love. This song marks the Nandy Sisters' third single in 2021, preceded by the folk/pop tracks "Sikun Sikun Hiya" and "Ishq Wale Mail." Embracing the diversity of India, life and art, the Nandy Sisters' music continues to transcend and inspire as they unveil their unique original sound.
The music video for "Takayaka Makajhum" was filmed in Antara and Ankita's home state of Assam. Directed by Ashim Baishya, the clip sees the Nandy Sisters explore a school campus while recounting their experiences of love. The music video is an electric landscape of colourful outfits, playgrounds and nooks that reflect the many hues of the Nandy Sisters' lives. As Antara and Ankita skate and dance around the campus, the music video for "Takayaka Makajhum" captures the fun and freedom of youth. The sisters learned the dazzling choreography for the song while on set itself, challenging themselves to set a new benchmark for their art. The result is a video that unites the best of two worlds — music and dance.
Antara and Ankita Nandy say, "Takayaka Makajhum is an amalgamation of love, music, dance- A peppy track that'll make you tap your feet. We're really excited about the release of this track and hope the audience receives it as well. We also want to thank Qyuki for being there and supporting us throughout."
Qyuki MD Abhimanyu Radha Krishnan says, "We at Qyuki are always very excited when our artists push their creative boundaries and The Nandy Sisters consistently do that. They are devoted to every project they take up and we are very proud to be a part of their journey. Qyuki will continue to support them and work as an integral part of their team as they reach new highs in their musical career."
Both Antara and Ankita Nandy hail from A.R. Rahman's KM Music Conservatory in Chennai. The Nandy Sisters kickstarted the popular lockdown series, Balcony Concert, last year. The viral YouTube series saw the duo showcase folk songs from different regions of India, covering 16 languages, including Assamese, Bihu, Marathi, Telugu, Odia and more. These videos have been appreciated by over 12M people worldwide. Although the Nandy Sisters are a formidable force of music together, Antara and Ankita have also established their identities as solo artists. While Ankita has trained under celebrated music director Chandan Roy Chowdhury, Antara has collaborated with legends such as Rahman, Udit Narayan, Ranjit Barot and more. 
The Nandy Sisters aim to put out three more singles this year. Each song will give fans a different experience of genres and production; each track will have a unique element that will spellbind listeners. As the Nandy Sisters realise a powerful artistic legacy, their music will continue to reflect the diverse fabric of the world.