My character Pushpa and I share same motherly instincts, says Sonali Naik 
She is from Sony SAB's Maddam Sir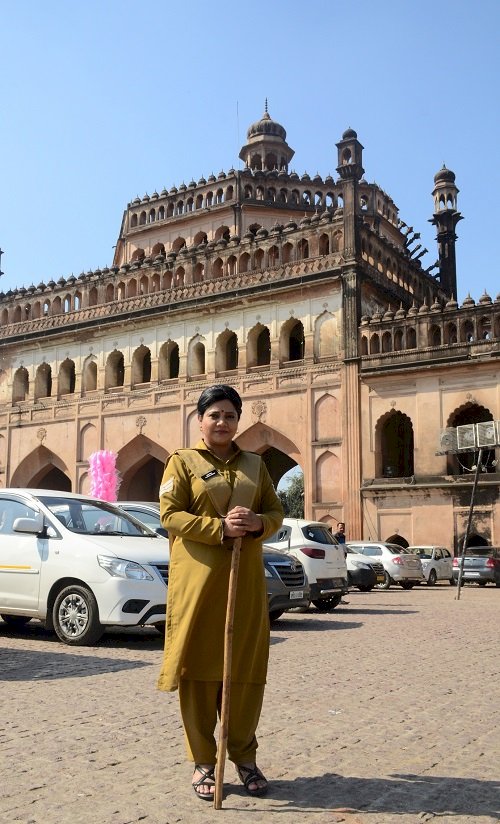 Sonali Naik as Pushpa Singh in Maddam Sir.
How does it feel to be a part of Sony SAB's Maddam Sir? What was your reaction when you were approached for the role of Pushpa?
This is my first show with Sony SAB and I am really enjoying it. I have previously portrayed some comic-negative roles but I didn't know that I'll be able to pull off a light hearted comedy genre show. The production team has trusted me with the role and it has only encouraged me to put my best foot forward. When I was approached for Pushpa's role and I got to know the storyline and concept, I was really impressed with the story. Maddam Sir is gripping, exciting and at the same time engages the viewers through emotions. 
I think, I am well suited for the character of Pushpa. I feel at my age getting the opportunity to play a protagonist is a little challenging as these days, the expectation from the protagonist is high. I am really happy to be a part of this dynamic group of ladies and I consider myself lucky that I am still getting to explore new concepts and roles in my career. As an artist, essaying such a strong and vital role gives me peace and I am constantly encouraged to make everyone proud through my performance.
 
About Pushpa's character?
Pushpa is the Head Constable and Counseling Head of Aminabad Mahila Police Thana. She is the eldest most member of the police station. She is really understanding and a sweet character with calming a personality. Pushpa dearly wishes to achieve something big in her life before her retirement as she has spent all her life in one police station. She has struggled her entire life while taking care of her son, household chores and police station all by herself. The only relief Pushpa is looking forward to is, getting a suitable daughter-in-law, who will take over her responsibilities but things turn out differently as her son gets married to a dabangg police officer, Karishma.
 
Can you relate with the character, Pushpa?
I think Pushpa and I have a lot of similar qualities. She loves kids the same way I do and Pushpa is the most caring and loving person in the police station. We both share very the same motherly and protective instincts and due to this, it has been really enjoyable to play Pushpa.
 
How are you preparing for the role of Pushpa in Sony SAB's upcoming show Maddam Sir? What do you love about your character?
I'm Maharashtrian and previously I have mostly essayed Maharashtrian roles. With Maddam Sir, grasping the Lucknowi lehza has been a little challenging and getting it right has not been an overnight transition.  I have worked hard for this role and this hard work and dedication makes me feel young and reminds me of my early days in the industry. Learning something new and playing around with creativity is what keeps an artist alive.
While the Lucknowi dialect workshops were going on, a retired female police officer had also visited us to guide us on how to get the minute details of being a police officer right.  She taught all of us how to salute and the mannerisms of a police officer. The journey of learning still continues for us and it has been full of adventure.
 
What is your take on concept of Mahila Police Thana?
I feel it's a really thoughtful initiative by the government. While working on the show, I got to know that there are almost one thousand police stations in India for women. This is a step towards empowering women to have a voice and the right and comfort to file a complaint when necessary. This initiative has made a lot of women come up to the Mahila Police Thana's and lodge a complaint while being understood and comforted by the fellow woman officer.
 
What was your feeling on the first day on the set of Maddam sir?
The first day on the set of Maddam Sir was exciting and it was full of positivity and hope. I was thrilled as I even shot the first scene of the show on the new set. Every day I look forward to go for the shoot as in such a short span of time, we have all become a tight knit family.
 
How was your experience of shooting in Lucknow?
Shooting in Lucknow was a great experience, full of memories. We used to wake up at 4am before the sunrise during the chilling winters. Now, that is some experience we all will never forget. We shot at various beautiful places and sometimes also with police protection. People in Lucknow have been very warm and welcoming towards us and it was a good feeling to shoot while the crowd gathered to cheer us all.
 
What can viewers expect from this show?
Maddam Sir will showcase a renewed approach to policing, which we call policing with heart. While these 4 strong ladies lead a police station and deal with various issues and cases, they will present a light-hearted way of solving the cases. Like our tagline says, Kuch Baat Hai Kyuki Jazzbaat Hai, which signifies that with emotions and understanding, anything can be resolved. Maddam Sir promises to put a smile on our viewer's faces as the story of Aminabad Police Station unfolds.