Multi-talented twins, Sukriti and Prakriti collaborate with Punjabi singing sensation Sukh-E 
For a Special Valentine Song 'Sona Lagda'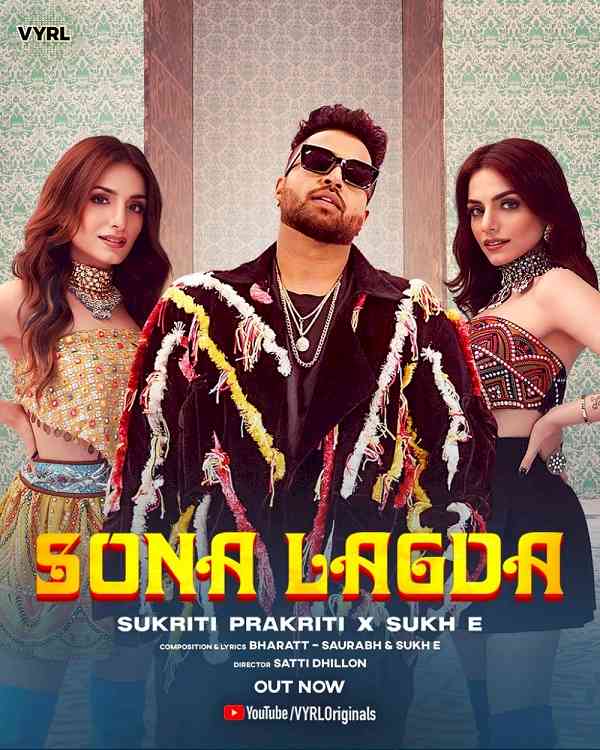 The Multi-Talented Twins Sukriti – Prakriti are back with yet another peppy song after their previous hit song – Hum Tum. To celebrate the season of Love, VYRL Originals bring you a Valentines special – 'SONA LAGDA' a romantic dance song also featuring the widely acclaimed Punjabi hitmaker Sukh E, making this Sukriti-Prakriti's first massive collaboration in the Non-Film Industry.  
The song is sung by Sukriti Prakriti and Sukh-E which is co-composed and written by the young and talented duo Bharatt-Saurabh and Sukh-E. 'Sona Lagda' has an upbeat reggaeton production style with an ethnic melodic drop. The lyrics are fun and trendy depicting the chemistry between a couple, making it a perfect Valentines song.
Directed by the popular Satti Dhillon, the pulsating music video underscores the essence of the song by complementing its vibe. The video features India's favourite pop sensation duo Sukriti and Prakriti in their uber-chic avatars alongside Sukh-E showcasing his dapper style. This power packed video is sure to set you in a mood to get your Foot tapping.
Talking about their latest release, Sukriti and Prakriti stated, "Sona Lagda is a perfect song for this valentines because of its peppy beats and quirky lyrics which is beautifully composed and written by Bharatt-Saurabh & Sukh-E. It been a wonderful experience working with them. We are really excited about 'Sona Lagda' as this is our first Punjabi collaboration and we can't wait to see everyone's reaction. We have put in a lot of hard work and hope that everyone enjoys it as much as we did and shower all their love for this new track. VYRL Originals as always have been our support system and we are extremely happy to be a part of the VYRL Family."
Excited about the release of the song, Sukh-E said, "Sona Lagda is the go to song for every mood and especially more in the month of love. The song has a fresh vibe and I am sure it will lighten the mood and spread cheer. I am looking forward to some fun content to be made on this track too. It was a wonderful opportunity and an amazing experience to work with Sukriti – Prakriti and the talented Bharatt – Saurabh, all thanks to VYRL Originals."
Commenting on the latest release, Vinit Thakkar, Chief Operating Officer, Universal Music India & South Asia, said, "Sukriti and Prakriti are extremely talented singer-songwriters, performers, composers and fashionistas and are one of the formidable popstars in the country. With back-to-back hits like Mafiyaan, Kehndi Haan Kehndi Naa & Hum Tum, I am sure Sona Lagda is going to be a notch higher. This is Sukh-E's first collaboration with VYRL Originals and we are glad to welcome him to the family. Their respective fan bases have showered immense love on the collaboration since the announcement and we can't wait to share this banger with all of you."