Multi-specialty OPD centre inaugurated at Rajpura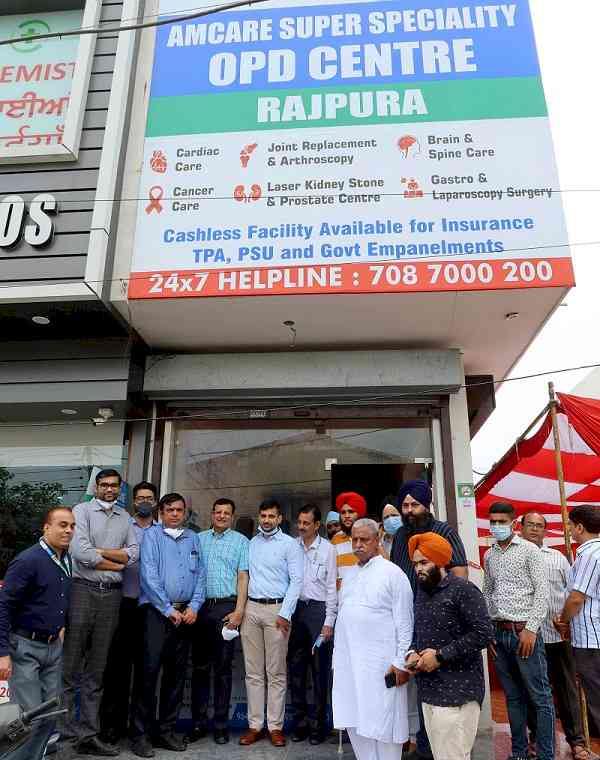 Rajpura, September 3, 2021:  Baldev Singh Khurana, president of senior citizen council inaugurated a multi-specialty OPD centre of Amcare Hospital, Zirakpur at Rajpura on Friday.
Among others, Joginder Bansal, president-Rotary Club and Inderpal Singh Bhagga, chairman-Rajprua Chemists & Druggists Association were also presented during the occasion.
Senior consultants from medical specialties including brain & spine care, cardiology, joint replacement & sports medicine, gastro & laparoscopic surgeries, urology - laser kidney stone removal & prostate will be available in the center for consultations.  
Dr. Arun Nibber, founder & chief medical director of Amcare Hospital, said that, "We aim to promote healthcare to the common masses, with the growing needs of society, by providing quality and affordable healthcare with commitment. OPD center at Rajpura is a step towards this vision of ours. "
Meanwhile Amcare Hospital, Zirakpur is empanelled with CGHS, Punjab Haryana and HP govts, Aayushman Bharat, PSUs, Insurance companies and TPAs. It has a fully equipped ICU,  Modular OTs, 24X7 Emergency Services & Critical Care,  Cath Lab for cardiac emergency (angiography & angioplasty), 24X7 Blood Bank, 24x7 Dialysis Unit, 24x7 Laboratory services and Radiology Services (CT Scan, Ultrasound, Digital X-Ray) EEG/EMG/NCV, Echo/TMT, Endoscopy, Colonoscopy, Bronchoscopy, PFT etc.