M.Tech.(Defence Technology), Online Orientation Programme
Amity University in collaboration with DRDO has launched a unique Mtech (Defense Technology) Program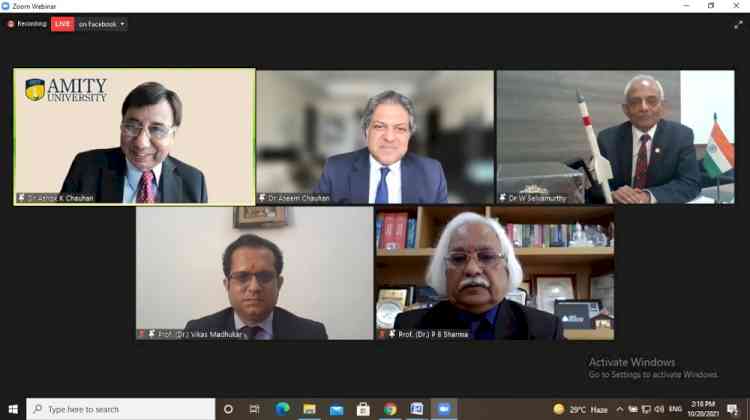 Gurugram, October 20, 2021: With Defence Sector opening up under the Prime Minister Hon'ble Narendra Modi's 'Aatmanirbhar Bharat' and 'Make in India' initiatives of the Government, Amity University Gurugram and Uttar Pradesh in collaboration with DRDO have launched a unique program Mtech (Defense Technology) from the academic session 2021-22. The USP of the program is that the students will be mentored jointly by the faculty of University and Senior Scientists and Technologists of DRDO. Further, the students of M Tech (Deference Technology) shall have the privilege of doing their lab classes in DRDO R&D laboratory using the most advanced R&D infrastructure and shall carryout their research based minor and major projects under joint supervision in DRDO laboratories. The program also offers opportunities of internships in Defence PSUs and in Defence manufacturing industries in India.
M.Tech (Defence Technology) Programme is being offered in six verticals i.e Combat Vehicle Engineering, Aerospace Technology, Communication Systems & Sensors, High Energy Materials Technology, Naval Technology and Directed Energy Technology. 
While motivating the students Dr Ashok K Chauhan, Hon'ble Founder President, Amity Education Group said, "Question yourself daily, that what you want to be and what is your dream? And then have faith and self confidence in yourself, give your everything to achieve that dream and you will succeed. Amity University is running so many programs in different campuses, but I must admit this is the program I am looking forward personally which has unlimited opportunity."
Speaking on the occasion, Chancellor, AUH Dr. Aseem Chauhan said "No goal is impossible if believe in Education, Research and Innovation. Human brain has so much power, and by choosing this course you are on a patriotic journey that will lead you to achieve great heights. The students who enrolled in this program are exceptional."
While explaining the importance of Mtech (Defense Technology) Program Prof P B Sharma, Vice Chancellor, AUH said, "India is sitting on the gold mines of innovation and we have creative genius with us who has the ability to change our world into a better place. By choosing this course you are contributing to our Hon'ble Prime Minister 'Atmanirbhar Bharat' program, you will not only be graduate but you will be innovators, entrepreneurs and you will have the opportunity to design, develop and learning of inter disciplinary nature of education and research."
While delivering her opening remarks Prof Padmakali Banerjee, Pro Vice Chancellor, AUH said, "We at Amity has an innovative environment and we emphasized on technology a lot. The success of the program depends on student's contribution of the program and students are the backbone of the nation. Students will get ample of opportunities during this program, new knowledge requires accelerated research.  "
Lt Gen Anil Kapoor, Director General, AIDT while delivering his lecture on "Amity Mission on Defence Technology" said, "Students are going to learn 'out of the box thinking process'. Defense industry are expanding and so does our country, if you are marching with us, you are opening a new window of opportunities and bright future in your life. The four mantras I would like to give you are Hard Work, Goal, Vision and Discipline."
While delivering his opening note Dr Vikas Madhukar, Deputy Pro Vice Chancellor said, "We have received overwhelming response from students across the country. We have received applications from 18 states of India. This Programme will shape up students future career and enable them to contribute to Nation Building."
While giving an overview of Mtech (Defense Technology) Program Dr Shalini Bhaskar, Director, ASET said, "We have launched this programme in collaboration with DRDO with an important National Mission of generating the talent force of human resource required by India in the coming years in Defence sector. India is striving to augment self-reliance in Defence Technology including Missiles, Fighter Aircrafts, Drones, Naval Systems, Combat Vehicles, Radars, Sonars, Higher Energy Materials and Directed Energy Systems."
The inauguration of online orientation programme day  was attended by over 1000 participants that included Dr W Selvamurthy, Chancellor AUCH and President Amity Science, Technology & Innovation Foundation, ASTIF, Dr A K Nagpal, Chairman Amity PACIFIC Forum, VCs and Pro VCs, Deans, HoIs, members of faculty and a large number of young, inspired students from various Amity Campuses. The Vote of thanks was presented by Rear Admiral K K Pandey(Retd.), Director, HR.  The event was coordinated by Dr Vikas Madhukar, Deputy Pro Vice Chancellor, AUH and was assisted by Ms.Monika Yadav and Dr Charu Jain.
Amity University Haryana in a short spam of 11 years has emerged as a hub of immense creativity, thought leadership in a vibrant hub of higher end R & D in areas like Big-Data and AI, Machine Learning and IoT, Life Science, Bio-Technology, Bio-Medical Engineering, Nano-Science and Technology, Water Technology and Air Pollution Mitigation and Control and a crusader of sustainability, that has earned for our young university the honor of being a Platinum Category LEED Certified campus by the US GBC.