MP Manish Tewari reviews ongoing development projects
Deliberates with MC upon likely future endeavours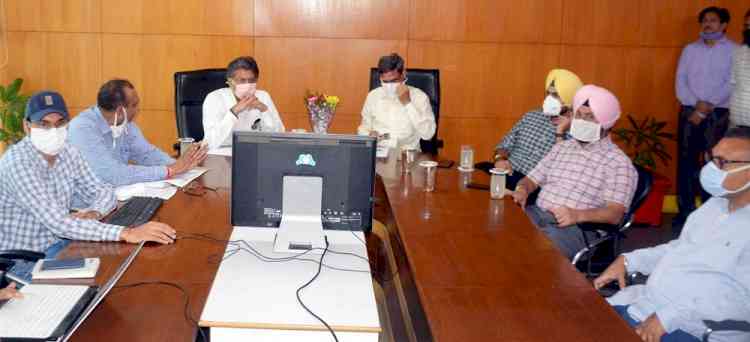 SAS Nagar: Member Parliament Manish Tewari today reviewed the ongoing development projects in SAS Nagar. He also discussed with the officers the likely endeavours for the district, in future.

After going through an exhaustive PowerPoint presentation by Municipal Corporation, Mr Tewari informed that he had been given an insight into the major projects executed in the past, the current projects that are under way and the future challenges that Mohali as a township faces over the next 10 years.

Sharing the purpose of his visit he said, "Essentially, I wanted to get an overview about how exactly are we going to surmount the challenges as the city grows and develops. The purpose of the visit is to absorb the information provided, apply mind over it and give inputs to the Corporation." It is a continuous process of interaction and iteration, said he.

Mohali is the largest Municipal Corporation in my Parliamentary Constituency and it has a very special place in Punjab considering that it has an International Airport and there is a lot of interest in Mohali even from corporate standpoint. So, we are looking at the challenges which this township ship would have to surmount over the next ten years, he added.

Replying to a query regarding cut in the Municipal Corporation budget ,Manish Tewari said that this is a challenge which not only Mohali but which every urban local body across India faces. What matters is how dowe break even between our revenue and expenditure. I will as a public representative, deliver to the best of my ability to my constituency, said he.

Essentially, our objective is not to look just at the immediate challenges alone but to look at the future challenges as well. Because, when we think for a city we don't think in a one or two year timeframe but we think for a ten to twenty year time frame
On being asked upon as to what requires the push in the city, Mr Tewari said that an elevated road project is definitively a future need because eventually as you go along traffic congestion is going to grow. Infact, if activity at Mohali Airport picks up and international travel takes up a big time and COVID-19 allows us to get back to life as normal, then an elevated road project which is almost a Rs. 100 crore project would definitely require a push.

Earlier, the Member Parliament reviewed the ongoing projects including the augmentation and rehabilitation of sewer system, the improvement of infrastructure in the local markets , the beautification of triangles and entry points, construction of state of art community centre in sector 60 and village sohana, development of playgrounds in parks and installation of high-rise number plates/ signage boards in various wards.

The likely future endeavours which were discussed included vehicular underpass on the airport road, city bus service project for Mohali, augmentation and rehabilitation of storm drainage system, augmentation and rehabilitation of water supply system, development of roads of industrial area and shifting of dairies from the limits of Municipal Corporation.

Advocate Kanwarbir Singh Sidhu Ruby, Mr Pawan Dewan, Ravinder pal singh ,Mr Kamal Kumar Garg, Commissioner Municipal Corporation were among the others present on the occasion.