MP Manish Tewari lays foundation stone for construction of bridge over Dhada Kalan Choe
The high-level bridge costing Rs 2.67 crore will be completed in 6 months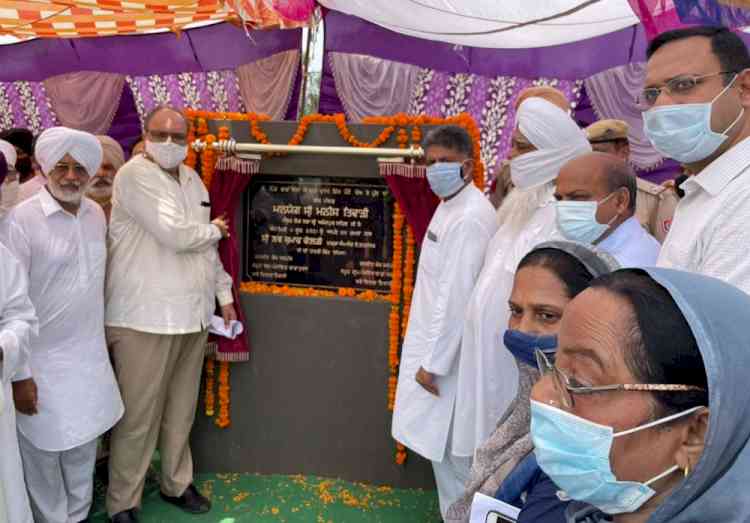 MP Manish Tewari laying foundation stone for construction of bridge over Dhada Kalan Choe.
Garhshankar: Continuing the development of Sri Anandpur Sahib Lok Sabha constituency, Manish Tewari, Member Parliament and former Union Minister laid the foundation stone for the construction of a bridge at village Dhada Kalan and Dhada Kalan Choe in Dhada Khurd. The construction of this high-level bridge on the Choe, which is about one kilometer long at a cost of Rs. 2 crore 67 lakhs, is targeted to be completed in six months.
Addressing the people on the occasion, MP Tewari said that development of the constituency is his priority.
A 1.07 km long high-level bridge would be constructed at a cost of about Rs. 2.67 crore on the choe between Dhada Kalan and Dhada Khurd, which was a long pending demand of the people of the area. He emphasized that he is aware of some other issues related to the constituency which would be resolved soon with the help of former MLA Love Kumar Goldy. He said that for the last one and half years due to Corona epidemic the priority of the state government has been to save the lives of the people.
In this context, the appeal made by the Chief Minister Capt. Amarinder Singh to the villages in the fight against the Corona epidemic is also having an impact as he had announced a grant of Rs. 10 lakh to the village which was 100 per cent vaccinated. He disclosed that the target of 100 per cent corona vaccination has been achieved by two villages Nazarpur and Rawal Pindi belonging to Garhshankar Assembly constituency to which he had also written a letter to the Chief Minister seeking release of grant of the money announced earlier.
Among others present on the occasion were former MLA Love Kumar Goldy, Punjab Large Industrial Development Board Chairman Pawan Dewan, SDM Harbans Singh, Tusar Gupta DSP, Tapan Bhanot Tehsildar Garhshankar, Kamal Nain XN PW Lambardar, Jasbir Kaur Sarpanch, Manjit Kaur Sarpanch.