Movement of trains resumed in Ferozepur Division
On October 26 the railways had postponed the movement of goods trains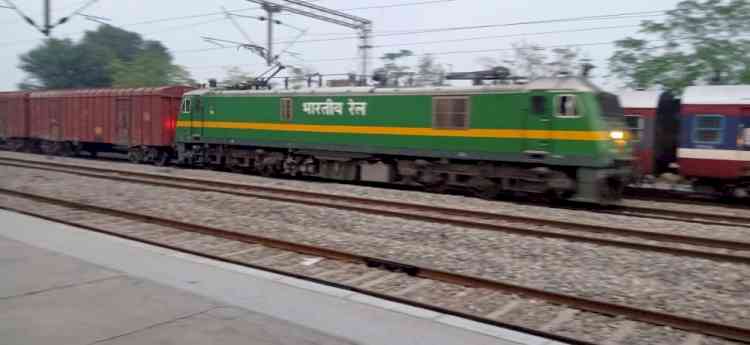 Ferozepur: Following the decision of farmer's organization to suspend the "Rail Roko" andolan for two weeks, the movement of goods train was resumed in Ferozpeur division today. Rajesh Kumar Aggarwal, Divisional Railway Manager said one good's train loaded with gypsum started from Jammu today afternoon at 1400 hrs which will reach Lucknow by today night. "one empty BTPN (Bogie Tank Wagon for loading of Petrol) has also started from Ferozepur to Delhi today afternoon", said DRM. 

The DRM said that following the checking of the tracks throughout the night by the various inspection teams, foot to foot checking was also done during the broad daylight. "Following the reports, the trains were resumed", said DRM. 

While divulging more details about the resumption of the other trains, the DRM said the "Golden Temple  Mail" from Mumbai Central to Amritsar, which was earlier being short terminated at Ambala, will come to Amritsar tonight. Similarly the train service from Amritsar-Haridwar will also be resumed from tomorrow morning.  Similarly, the other trains including Ferozepur-Dhanbad Express will also be resumed. 

As per information, the other trains which will be resumed by tomorrow include Paschim Deluxe Express Covid-19 Special (02925), Saryu-Yamuna Covid-19 Special (04649), Amritsar Shatabadi Covid Special (02029), Dhanbad-Ferozepur Covid Special (03307), Nagpur-Amritsar Covid-19 Special (02025), Begampura Festival Special (02237), Gorakhpur Jammu-Tawi Amarnath Festival Special (02587). 

Earlier, on October 26 the railways had postponed the movement of goods trains which was resumed on October 23.