Motivational, spiritual and yoga session held in Chandigarh
Event held at The British School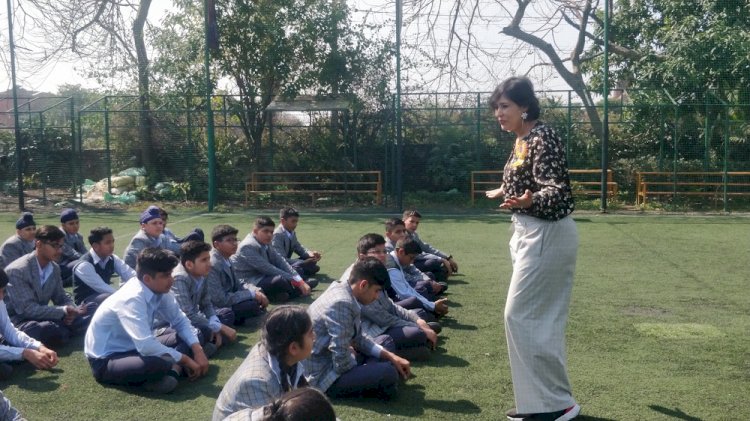 Chandigarh: Nupur Tewari held a Yoga Motivational ,mental and physical Fitness session  for students of class 6th ,7th,and 8th class at The British School Chandigarh . Nupur is on India Tour and currently for Heal Indya mission visiting various Educational Institute at Pune, Mumbai  Rajasthan , NCR , and Chandigarh. Heal Indya aims  at helping,  empowering Youth and underprivileged kids through yoga and mental counselling. She was awarded Most Fabulous Women Leaders ( In spiritual healing- Yoga ) by Global Mice  and PHD Chamber of Commerce New Delhi .
Nupur believes  that everyone has all the tools to fight the battle of life, the problem is when you start thinking of your life-goals as a means to one-up your rivals. 
Nupur says "You have the capacity to prove anyone wrong and that confidence should not stress you out. Your skills exist to make you happier and give your strength. Don't think of it as revenge…that will give you stress. Just have life goal clear and the universe will always support you".   
'Heal Tokyo', a Japan based group headed by a teacher of Indian origin Nupur Tewari, is working to eradicate the curse of illiteracy in India and to promote the ancient Indian tradition of yoga.
Nupur, who was born in Murshidabad, West Bengal, said she had undertaken welfare activities in Sri Lanka, Japan and Africa earlier.
"But I wanted to do something in my motherland. I got that opportunity in November 2017 through a school for underprivileged children called 'Nai Soch' in Aligarh. It imparts education to 100 children whose families can't bear their educational expenses," she said.
She said she raises funds for her welfare activities through the donations made by people who attend her yoga classes. "I run free-of-cost yoga classes in Japan. There are no charges but people make donations. With this money, I support the school," she said.
Nupur said this was just the beginning and she had plans to support similar schools in different parts of the country.