Most of bus stands in Punjab give deserted look today
It was decided to prohibit movement of all public service vehicles in view of situation arising out of spread of COVID-19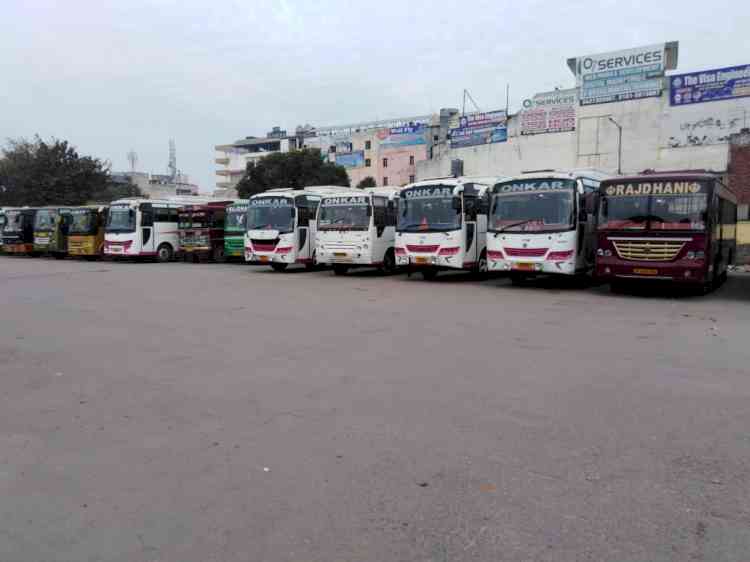 The general bus stand in Jalandhar gives a deserted look on Saturday. (photo: Rajat Kumar)


Jalandhar/Ludhiana: Most of the bus stands in Punjab today (March 21) gave deserted look due to non-plying of buses (see photographs taken at general bus stand in Jalandhar today by our correspondent Rajat Kumar). 
It may be recalled here that Group of Ministers took stock of the situation arising out of spread of COVID-19 in Punjab in its meeting on March 19, 2020. It was decided to prohibit movement of all public service vehicles which includes all stage carriage, contract carriage buses, auto rickshaws and e- rickshaws. However, for public convenience, buses of
PRTC/PUNBUS/Punjab Roadways on specific routes and taxis having seating capacity of less than 12 passengers' i.e. maxi cab and motor cab were exempted from this prohibition about Transport Minister Punjab had issued a press communique in Chandigarh on Friday.
It may be mentioned here that the prohibition came into effect from midnight of March 20, 2020 and it will be in force till March 31, 2020. This prohibition includes, stage carriage as well as contract carriage buses coming from outside the state of Punjab. However, in case of emergency, concerned Deputy Commissioners as well as State Transport Commissioner are authorized to exempt any public service vehicle from operation of this order.
This ban doesn't cover goods carriers and private service vehicles i.e. factory, staff buses etc.