Monthly exports yet again shows highest ever fall due to coronavirus
Expects mega economic package to revive exports and overall economy: FIEO President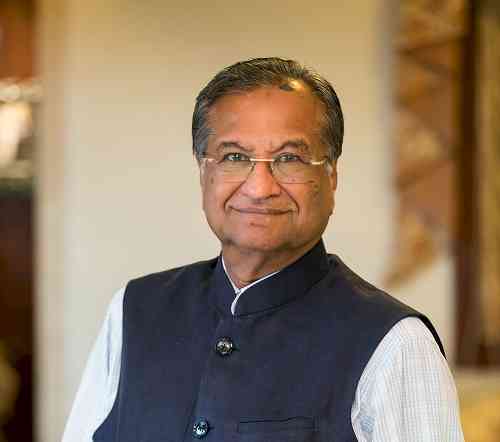 FIEO President Mr Sharad Kumar Saraf.
Ludhiana: Responding to a yet again highest-ever double digit decline in monthly exports, of well over two and half decades, during April, 2020 by 60.28 percent at USD 10.36 billion, FIEO President Mr Sharad Kumar Saraf said that lockdown measures due to Covid-19 across the globe has not only pushed the global business sentiments to its lowest but has also impacted the supply chain and brought slump in the economies across the world.
 
Mr Saraf added that the exports during the month for emergency and essential items like drugs and pharmaceutical products only were marginally positive. The reason being lockdown measures followed across the world, disruption of supply chains and  major cancellations in orders except for drugs and pharma. Mr Saraf expressed his serious concerns over sharp decline in employment-intensive sectors of exports which has serious ramifications for the jobs in the country particularly as domestic demand will also not be robust. 
 
With the mega economic package of Rs 20 lakh crores announced by the Hon'ble Prime Minister and details being presented by the Hon'ble Finance Minister, FIEO Chief is of the view that we may expect revival in exports from the third quarter of the fiscal, depending on the condition evolving in the international market. With major global players including US, UK, Canada, Japan, Germany, France, Austria, Spain, Netherland, Italy, Sweden and Bangladesh having provided the bailout or financial packages to their industry to sail through these difficult times it is also expected that the same would help in bringing good news for the overall international trade, said Mr Saraf.
 
Mr Sharad Kumar Saraf said that 28 out of the 30 major product groups saw highest-ever double-digit negative growth of almost up to 99 percent during April 2020. Even large quantities of petroleum exports could not push value wise exports as the international prices were at rock bottom. 
 
Further imports of USD 17.12 billion with a very high double digit decline of 58.65 percent during the month, is also the highest decline in imports in well over two and half decades. 
 
Mr Sharad Kr Saraf reiterated that with the cancellation of about 70-80% of orders, casting a gloomy picture besides major job losses and rising NPAs amongst exporting units, we urge the Government to immediately implement the economic measures announced at the ground level for quick and early starting of trade and businesses across the country during such difficult and testing times. 
 
Exports may be provided additional MEIS of 2% across the board and 4% for labour-intensive sectors to help them in such difficult times. Government should allow roll over of forward cover without interest and penalty and automatic enhancement of limit by 25% to address liquidity challenges. Besides, immediate need of the hour is also the Export Development Fund and various reforms measures including overall ease of doing business for marketing of Brand India products across the globe and boosting foreign direct investment in the country respectively.