MLA Surinder Kumar Dawar inaugurates two road projects in ward No. 56
Residents of the areas welcomed Dawar and applauded him for the development work he has been doing in Ludhiana Central constituency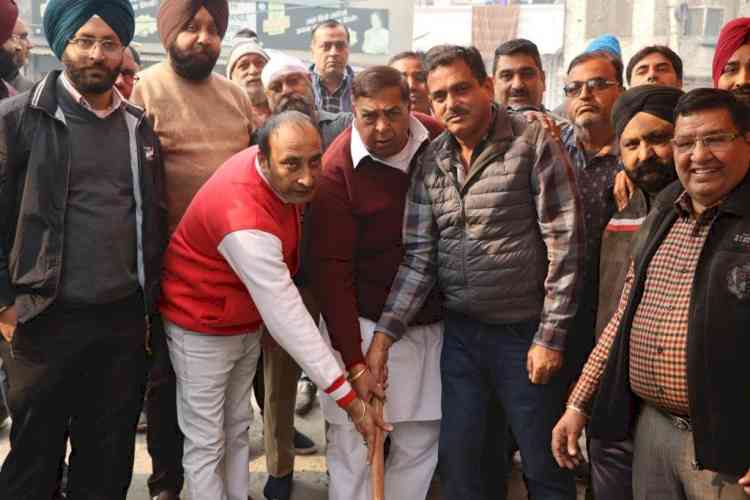 Ludhiana, December 22, 2021: Ludhiana Central MLA Surinder Kumar Dawar inaugurated two road projects in ward number 56 today. The first project costing about Rs 49 lakhs was inaugurated in New Shivaji Nagar and the second project that would cost Rs 39 lakhs was inaugurated in Dharampura locality of the ward. Residents of the areas welcomed Mr Dawar and applauded him for the development work he has been doing in Ludhiana Central constituency. 
Expressing their gratitude the area residents raised slogans in favour of Mr Dawar as he arrived in New Shivaji Nagar.  Men, women and children gathered around Mr Dawar and interacted with him apprising him of various other issues to which the MLA assured for a quick action. 
While inaugurating the project, Mr Dawar said that he would not leave any area of the constituency bereft of development work. 
Mr Dawar said that he knows that people of the ward have high hopes from him and he has made sure to fulfil all the developmental requirements in all the wards. "I want people of Ludhiana Central to lead a hassle-free and contented life. For this, I have been working round the clock and I will continue to do so in my third term also," he said. 
Similar sights of warmth were seen in Dharampura locality also, as residents shared sweets with their MLA as he inaugurated the road project. Area residents said that Mr Dawar's name is synonymous with statesmanship. "MLAs come and go. But Dawar Saab is not an ordinary politician. He is a true statesman. He is the people's man," a resident beamed.