MLA Manuke and ADC reiterate commitment of government to eliminate drug menace
Cycle rally organized to spread awareness against curse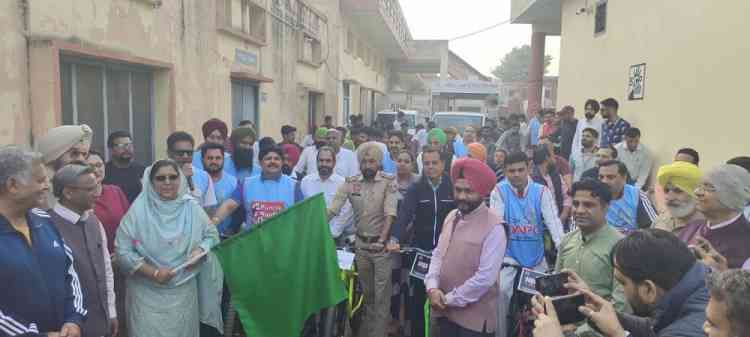 Jagraon (Ludhiana) March 20, 2023: MLA Sarvjit Kaur Manuke and Additional Deputy Commissioner Major Amit Sareen reiterated the firm commitment of the Punjab government to wipe out the menace of drugs completely from the state.
Addressing the gathering during a cycle rally organized to commemorate the martyrdom day of Shaheed Bhagat Singh, Sukhdev and Rajguru on March 23, MLA Manuke said that the state government was taking the challenge of wiping out the drugs head on and every effort was being made to make Ludhiana free from this curse. She said that the government had already broken the backbone of drug peddlers to check the supply of drugs. 
Meanwhile, Additional Deputy Commissioner Major Amit Sareen also exhorted the people to be a part of the campaign against drugs. He said that it needed to be further transformed into a mass movement for safeguarding the future of the state and the coming generations.
Sareen said that the administration had also been making strenuous efforts for eliminating drug menace from the state. However, he said that such efforts could not be fruitful without the active support and cooperation of the general public. 
Later, the participants were awarded with medals and certificates.