MLA and PYDB chairman distribute sports kits to 25 youth clubs in Payal
Sports play a key role in the overall development of the personality of the youth: MLA Lakhvir Singh Lakha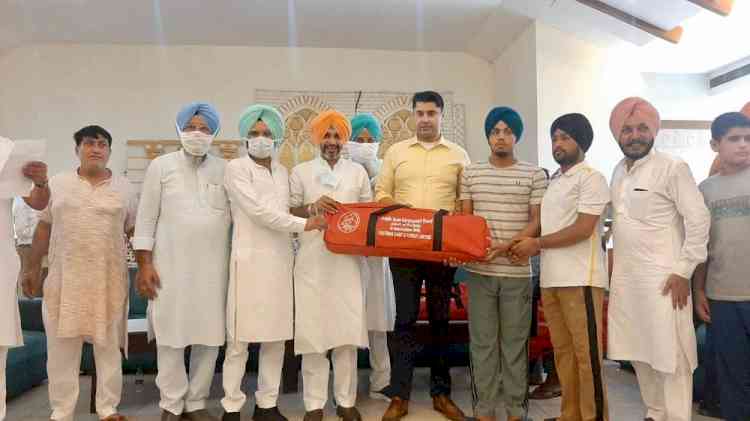 PAYAL (Ludhiana): With a motive to inspire the youth to excel in sports, Member of Legislative Assembly (MLA) Lakhvir Singh Lakha and Punjab Youth Development Board (PYDB) Chairman Sukhwinder Singh Bindra on Thursday distributed the sports kits among 25 youth clubs in the Payal sub-division.
Addressing the gathering in the event, Sukhwinder Singh Bindra said that the state government led by the Punjab Chief Minister Captain Amarinder Singh is committed to channelizing the energy of youths in the right direction through the promotion of sports. He said that the government is already ensuring a robust and top-notch sports infrastructure in Punjab to produce champions for national and international events. Bindra added that the Punjab government is also leaving no stone unturned to make Punjab a hub of sports in the country.
He asked the youths to play the game with utmost dedication and hard work to excel in the arena of sports.
MLA Lakhvir Singh Lakha exhorted the youths to participate actively in sporting activities. He said that sportspersons are blessed with several qualities and one of them is that they develop a team spirit during the game, which can help them to excel in their lives. He said that sports also play an active role in the overall development of the personality of the students.
They said that by inculcating the sports activities amongst the youths, the drug menace can be wiped out completely from the state.
Prominent among present on the occasion included Zila Parishad Chairman Yadwinder Singh Jandali, Malkeet Singh Goga, Sudarshan Kumar Sharma, Bant Singh and others.