MLA and DC launch free bus service facility for women in government buses
Move aimed to ensure safe, hassle-free and convenient travel to the women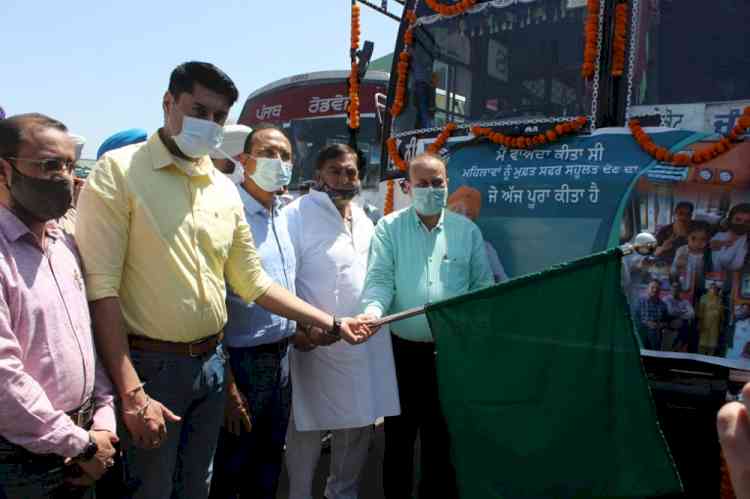 Ludhiana: As part of its commitment to ensuring women empowerment, Member of Legislative Assembly (MLA) from Ludhiana Central constituency Surinder Dawar and Deputy Commissioner Varinder Kumar Sharma on Thursday dedicated the free bus travelling facility to the women in all government-owned buses. 
Participating in a state-level launch of the service by Chief Minister Capt Amarinder Singh, MLA and DC accompanied by Punjab Youth Development Board (PYDB) Chairman Sukhwinder Singh Bindra, Backfinco vice-chairman Mohd. Gulab, DCC Urban President Ashwani Sharma, said that under this landmark decision, all the women can avail the service from any government-owned buses, including Punjab Roadways Transport Corporation (PRTC), Punjab Roadways Buses (PUNBUS) and City Bus Services operated by Local Bodies.
They disclosed that the women need only any ID card of Punjab domicile to travel free within boundaries of the state. They added that all these buses have enabled all safety measures with GPS, panic buttons, reserved seats, CCTVs in bus stations besides women sleuths have been deployed to ensure safe environment to the women. 
They said that in consonance with the commitment of the Punjab Chief Minister Captain Amarinder Singh to ensure women empowerment in the state, the Punjab government has been making stupendous efforts in this direction and this facility would help the girls/working women immensely who travel considerably on these buses. 
They also flagged off a Punjab roadways bus from Amar Shaheed Sukdev Interstate Bus Terminal. 
Prominent among present on the occasion included ADC (D) Sandeep Kumar, Secretary RTA Sandeep Singh Garha and others. 
Surinder Kaur, 35 who has been travelling to Kharar from Ludhiana, expressed gratitude towards Chief Minister Capt Amarinder Singh and said she used to pay Rs 115 as the cost of fare but now she is very much
happy over free bus service to the women. 
Similarly, Uma Devi, 40 told that the bus fare was too high and she was paying Rs 85 daily from Ludhiana to Jalandhar but now with the free facility, she would save money on travelling and would be able to concentrate on family better. She thanked the state government for taking this landmark decision.