Mitsubishi Electric India boosts social initiative through health awareness camp       
Covers 1076 residents through an extensive two-day camp organized in and around Bengaluru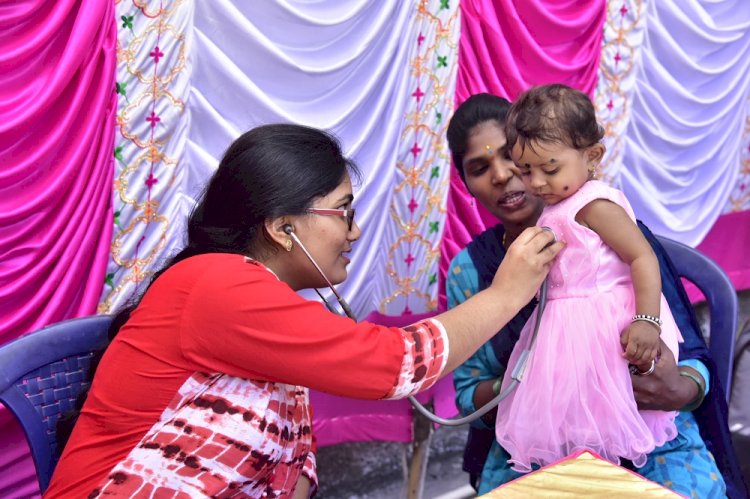 Bengaluru: Mitsubishi Electric India is pitching towards the growth of the country and would like to create a sustainable society for all. The company has adopted three basic UN's Sustainable Development Goals (SDGs) out of the 17 goals. Through this small initiative, Mitsubishi Electric India is trying to contribute towards the activity and support the society apart from its product and solutions as well. The three shortlisted goals are Clean Drinking Water & Sanitation, Good Health & Well-Being and Climate Action. In the continuation of the pre-defined initiative, Bengaluru city is part of all the three-community development activities to create a better living environment for the children and residents living nearby.

On Saturday and Sunday, Mitsubishi Electric India organized general health awareness camp at two locations situated in and around Bengaluru, each location covering two nearby villages. On 18th January, the camp was organized at Peenya Industrial area which is near to the company's CNC The technical center which included laggere & Rajgopalnagara residents. Followed by General health camp on 19th January at Kabbalu, Kanakpura district which is near to the Transportation Systems factory of Mitsubishi Electric India, in Bidadi. Thereby, covering nearby villages like Agrahara & Yalavalli.
To provide the best check-up to the residents, the camps were serviced by 5 doctors, 5 medical staff & 10  volunteers. The doctors and MEI volunteers received an enthusiastic response from the residents who went through the general health check-up of Hypertension, preliminary diabetes, Pulse, etc. The activity also provided vitamins and medicines to people who needed medication.
This General Health Awareness Camp accomplished in Bengaluru district was also in the line of the Government of India's Fit India Movement, launched by Prime Minister Narendra Modi on 29th August 2019.
While briefing on the initiative, Mr. Katsunori Ushiku, Managing Director of Mitsubishi Electric India Pvt. Ltd., said, "Our effort is to make preventive health awareness available for communities residing in the areas surrounding our factories. Healthcare is a very important aspect of society , and a strong society is one where everyone is fit. Through our social welfare activities, we are making sure that people's health and wellness gets maximum attention and health issues are detected at an early stage for proper treatment."